League of Women Voters – Candidate Forum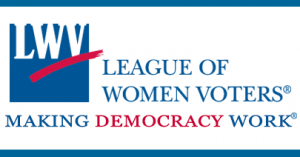 Democracy is at work right here in our community. The League of Women Voters of Stanislaus County invites you to a public forum to introduce the candidates running to serve the 10th Congressional District of the House of Representatives. Introductions will begin promptly at 6:00 p.m.
This is your opportunity to hear Congressional candidates state their positions and answer your questions on issues important to 10th District residents. It is free and open to the public.
Question cards and voter registration forms will be available.
The Director of Security for the building would like the attendees to enter through the Tenth Street entrance. The elevator will be operating only between the first floor and basement.
When: Wednesday, May 4, 6:00 p.m. to 7:30 p.m.
Where: Stanislaus County/City of Modesto Chambers in the basement of 1010 Tenth Street, Modesto.
For information about this release, please contact:
Wendy Scott, Public Relations Director
Stanislaus County League of Women Voters
209-531-1222
Comments
comments
Bring on the rain, and a bottle of Wonky & Wry's Honey Braggot Ale. Loves to roast marshmallows over a fire. Enjoys the mix of cigars and whiskey.