The August heat rushes through like a herd of galloping horses… it's completely unstoppable. This burst of fire scorches everything down to the leaves on the trees. The only thing it can't scorch is your spirit and your wallet. Leave everything to Ms. M, because I've got a few ways you can stretch your dollar while still leisurely enjoying yourself during the dog days of summer. http://www.modstock.org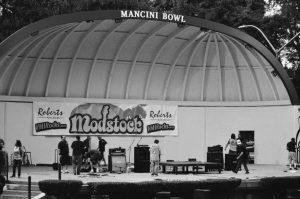 Kick off the month with some music at Modstock. All day Sunday August 7th at Graceda Park this free annual event hosted by VMI rocks has over 26 local bands, food, art and crafts and family fun. Stop in spread a little love, peace and enjoy the music! Music from 10am-Dusk.
Whether you're hunting for Pokemon or a good book to keep you company during the heatwave, the Stanislaus County Library happens to be a great place to start. A community resource in our area that offers free books, dvds, periodicals and internet not to mention free A/C and a couple of Poke Stops for avid Pokemon Go fans. Open now on Fridays, parents and kids can enjoy storytime or other activities. Library cards cost $1. Stop in the Downtown Modesto Branch and enjoy! http://www.stanislauslibrary.org/
Quality time with your family time is hard to fit in sometimes but always worth it when you do. Going to the movies can be a great experience for anyone but it's an adventure when you do it outside. City of Modesto presents the Family Night Film Series at Graceda Park starting August 19th. Every Friday through September 23rd catch a free flick and fun things to do for the family. The first movie will be "Minions" starting at 6pm to 9:30pm. Definitely have an adventure by watching a movie under the stars. More info call: (209) 577-5344
Don't climb the walls without proper supervision… go somewhere where you're mad for not climbing them. Modesto's favorite place to dance on the ceiling is Stonehenge, the indoor climbing gym where you are able to reach new heights while building endurance, testing your strength, and increasing your flexibility and balance. They are located a few blocks south of Downtown Modesto. http://www.climbstonehenge.com/
The premier talent show in the area, "Valley's Got Talent" returns August 26-27. Some of the Valley's amazing superstars in the making step up to offer themselves for a chance to win this showcase. Come out and give a little support to the up and comers in the area because it's hard to get out there as a one man or woman show.  This year's talent might produce the next big thing so don't miss out. http://www.galloarts.org/
Happy August and enjoy the Heatwave… kisses, m!
Comments
comments