Edible Extravaganza: A Look Back
By Elizabeth Rowan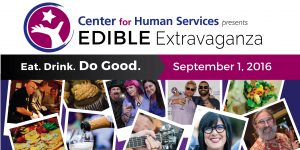 This year, Center for Human Services (CHS) celebrates the 30th anniversary of Edible Extravaganza, the Central Valley's most anticipated food and beverage show. To commemorate the anniversary, let's take a look back at the very first Edible Extravaganza in 1986.
The very first Edible Extravaganza, "Edible Extravaganza- A Taste of the Best," was on October 1, 1986 and took place in McHenry Village in a vacant retail space. Tickets were $20 each and there were approximately 15 local restaurants, beverage purveyors, dessert makers, chocolatiers, almond product processors and cheese and ice cream makers. Vendors included Neto's Family Foods and Catering and Cinnamon Roll Cafe.
Some of CHS' programs in place in 1986 that are still active today include Hutton House, a shelter for runaway youth or youth in crisis. Another program was called "Outreach Counseling," now Student Assistance Program (SAP), which was a supportive services and counseling program at high schools and has expanded today to include elementary, junior high and high schools as well. Mental health counseling for individuals and families was also provided then and has grown to be CHS' largest department today.
Kathi Cohn organized the first Edible Extravaganza.  When asked how the first event went Cohn noted, "15 minutes before the doors opened, all the booth drapes and piping fell down.  However, even with that ominous start, the event was deemed a success and grew each year."
In 1986, the Executive Director of CHS was Linda Kovacs and there were 15 total employees at the agency. Today the Executive Director is Cindy Duenas and there are over 240 employees. Edible Extravaganza is now CHS' signature fundraiser and has grown to include nearly 60 vendors, over 1200 attendees and live music. Local favorites such as Fuzio, Skewers and Greens Table will be returning this year and some new vendors, including Devine Swine and Ralston's Goat, will be welcomed for the first time.
"I believe Edible Extravaganza is metaphoric for fundraising at its best," Cohn said, "It involves the community coming together to work to raise funds to help solve community challenges."
Edible Extravaganza is a fundraiser, but CHS also believes in creating space for people to connect with each other and with community.  This event does that.
Edible Extravaganza is Thursday, September 1st from 5-9 p.m. at Modesto Centre Plaza. Tickets are $45 pre-sale and $50 at the door. If you are interested in attending this year's event, tickets are available online at www.edible2016.eventbrite.com or in person at Center for Human Services' main office, select Valley First Credit Union locations, Modesto Convention and Visitors Bureau and Steves Chevrolet Buick.
In honor of our 30th anniversary and to throw it back to 1986, CHS is encouraging attendees to dress in their best 80s attire.  Local bands, Boy Girl Boy and Cloak and Swagger, will be entertaining us with their best 80s and beyond musical selections. 80s neon sunglasses will be given to the first 1000 attendees.
Comments
comments
Bring on the rain, and a bottle of Wonky & Wry's Honey Braggot Ale. Loves to roast marshmallows over a fire. Enjoys the mix of cigars and whiskey.