The Foals
by Efren Martinez
Their newest LP "What went Down" was released in August 2015. Shortly after the album's debut, the band won "Best Act In The World" at the Q Awards and received a BBC Music Award Nomination for "British Artist of the Year". Foals was also nominated for four awards at the 2016 NME Awards, including "Best British Band", "Best Live Band", "Best Album", and "Best Track". On Monday September 26th they will be in concert at the world famous Fox Theater in Oakland, CA. This week I hooked up with Walter Gervers, the bass guitarist, to bring you this Foals interview.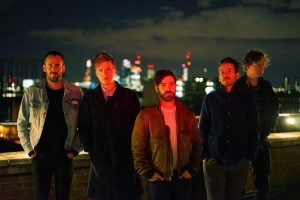 MV: What's the feel of this year's tour compared to your last tour?
WG: Well now, ya know what; it's definitely felt like it's stepped up- the energies of the crowd has stepped up, that's been kind of like a slow burning thing in comparison to our last couple of records. It definitely also depends on the towns we go to. Previous tours in the states like earlier this year, we were doing quite a lot of supports [show openers] and sure all these people were into to us, but they might not have been there to see us. So then, there's a lot more conscious standing and listening. Which is fine because you're just kind of appreciating that they are just coming to check you out. What's exciting is when it's our own shows, people bring more energy and come down right up front. Ya know, they're there for us.
MV: In comparison to crowds, do you find much of a different in fan boost when it comes to your European shows verse your American shows?
WG: I think Europeans can be incredible and they bring lot of prime, particularly during the festival season. We generally start our show late at these festivals and even by midnight, they still got loads of cheese. Americans, they can be quite subdued, referring to the shows we opened up for. But this year we spent a great deal of time there on this actual record, I think they're  going to be pretty good this time around.
MV: Foals just recently played the Outside Lands Festival in California USA, how did that go for you?
WG: That show was great! We were a bit nervous about that one because every time when you go back to a place where you've had a great experience, you always feel like you need to better it. That can be quite hard but we really had a good sized crowd. We were on the second stage which was kind of had that secluded "valley" feel. The bill was really strong and even though we went on a bit earlier than we're used to, is was really great.
MV: What's the most bazaar experience, if any, you've all had at a show?
WG: Oh God… Ya know that's always such a hard question. That would be when Yannis gets into the crowd to perform and generally comes back without his shirt & shoes. The fans can get quite involved with him at that point, and I generally stay back up on the stage.
MV: What 2 songs do the band enjoy most playing on the stage & why?
WG: I think the current favorites are the last track from "What Went Down", it's called "A Night in the Ocean." We've only been playing it this year and it's kind of become a bit in the moment because it's not like the other songs. Some of our other songs can be quite hectic and you know they all are kind of short with sharp bursts except for a few of our quieter ones. This song is somewhere in the middle, it's got like a really gray noisy ending which can get you to feel like you're in maguey for a minute or something. It just kind of sits back in the groove and the vocals are really song. We're just really proud of it.
MV: On September 26th you'll be playing at the Fox Theater in Oakland, CA USA. What kind of message would you like to send out to your fans prior to the show?
WG: That venue and the love in it have been really amazing to us. We've played there before as a support for Cage The Elephant and we absolutely just fell in love with the room and actually with that area all around there. There's great bars, great food and the people, it's actually going to be one of the highlights for us. All of us will be looking forward to see you all down there in the pit.
Band Info:
Genre
Religious
Artists We Also Like
Kiss My Ass
Band Members
Yannis // Edwin // Jimmy // Walter // Jack
Hometown
Oxford UK
Record Label
Warners
Short Description
foals forever // WHAT WENT DOWN out now: http://foals.co.uk/
Band Interests
making music // neo-baboonery // mary j.
Influences
Wu-tang // harmony k // religious guilt // sp-808 // d.f.w (RIP)
Media
http://www.foals.co.uk/ | http://www.twitter.com/foals | 
http://www.youtube.com/foals | 
http://www.instagram.com/foals
Comments
comments
I answered the call back in 1983; mixing Music and Entertainment with an eccentric European style has always come easy for me. In the early 80's I was the Disc Jockey for most of the high school dances in Modesto. In the late 80's I found myself in Hollywood working as a dancer and sound engineer for various professional recording industries. In 1990 my wife of 25 years and I started (The Quake Mobile DJ ®) which was seeded from San Francisco's 1985, The Quake, radio station that only lasted a short while on the air. 26 years later The Quake Mobile DJ is bigger & better than ever in the Entertainment industry. Real-Estate, photojournalism, event promoter, saving animals, travel and fitness are a few other of my interests. I also enjoy motivational speaking to children and to those who are struggling with addiction. In my life, I have always been a very direct person and once I see a goal I won't quit till I've achieved it. But out of all of the above I feel in my heart that the best inspiration in my life is my wife and my love for the faith that I practice. Phil 4:20