2017 SF OutsideLands Tix on Sale 4/6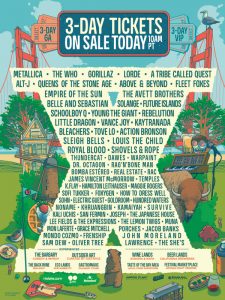 by Chris Murphy
This is huge friends.
The 2017 Line up has been announced and now it is time to get tix to one of the best festivals in the USA.
The Who, Lorde, Gorillaz, Alt-J, Metallica and more will be rockin' the stages of Golden Gate Park  on Aug 11-13.
Do not miss this ticket opportunity to be the first to make sure you are ready to go.
Tix go on sale April 6. at 10 am PST.  Get your fingers ready to log on.  They went superfast last year so don't miss out.
www.sfoutsidelands.com
Comments
comments
Chris's bio information.