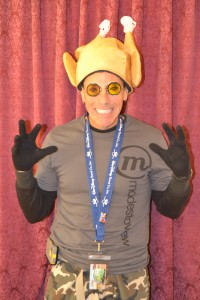 Thanksgiving is almost upon us and my family isn't much different from yours when it comes to our Thanksgiving meal dinner.  Pumpkin pies, mash potatoes, yams, and several different delicious concoctions that involve vegetables will be on our Thanksgiving table.
Then there's the sacrificial bird in the center of our dinner table that didn't receive that Presidential pardon, Mr. Tom Turkey. He is just one of millions of turkeys who will be basted, roasted or maybe even deep fried. As a person who loves and respects all animals, your guess is golden to think that turkey won't be the first choice on my Thanksgiving plate. Let me scoot back by saying, I get it. Thanksgiving and the turkey that we eat represents the thankful meal our Pilgrims shared with our Native Americans back in 1621. So enjoy it, as it is right to be thankful with every meal we eat as it is on every given day our Lord blesses us with. With that being said, I'd like to share a little on how I celebrate Thanksgiving, personally.
Yes, it's generally with my folks and sisters but in my own mind as I bless our Thanksgiving meal, I not only remember to give thanks for all those who are part of my life but I'll ask our Lord to please help those who are homeless, hungry and sick. For me, Thanksgiving is way more about just eating turkey and sitting around afterwards thinking on what will I be buying on Black Friday, but more so to be grateful for all, especially everything that lives and breathes.  I'd also like to share with you a Thanksgiving meal prayer from a little boy named Linus who left an imprint on my heart when I was just a little boy."A Charlie Brown Thanksgiving" from Charles M. Schulz"
Linus's prayer
In the year 1621, the Pilgrims held their first Thanksgiving feast. They invited the great Indian chief Massasoit, who brought ninety of his brave Indians and a great abundance of food. Governor William Bradford and Captain Miles Standish were honored guests. Elder William Brewster, who was a minister, said a prayer that went something like this: 'We thank God for our homes and our food and our safety in a new land. We thank God for the opportunity to create a new world for freedom and justice." 
Friends, have a blessed Thanksgiving and please remember to include giving thanks for the wind and the rain as well as to mother earth and all of our Lords creatures, including Mr. Tom the Turkey who'll be the guest of honor at your Thanksgiving dinner table.
Happy Thanksgiving
Efren Martinez
Comments
comments
Bring on the rain, and a bottle of Wonky & Wry's Honey Braggot Ale. Loves to roast marshmallows over a fire. Enjoys the mix of cigars and whiskey.