BluesView
by Earl Matthews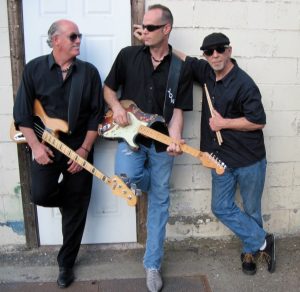 Hello everyone! I hope you are ready for a great month of music. Starting things out with something new to me is the Sierra Beer Train on April 1st with the Poorhouse Millionaires. The train leaves from Oakdale and heads up into the mountains for a 3 hour tour complete with snacks and drinks. It's a great way to say goodbye to the work week and hello to relaxation. A gorgeous view, too! A favorite event of the ViewCrew.
Also on the first Local favorite John Clifton will be up at the Torch Club in Sac. John is a consummate showman and a rare talent, well worth seeing again and again.
On the 2nd Roy Rogers and the Delta Rhythm Kings are at the Moe's Alley. It's an intimate venue for folks who want to see how its done up close and not on the jumbotron. Fresno's A.C. Miles is coming back to Black Oak on the 6th. A.C. is a monster guitar player who rides the line between Jimi Hendrix and a more traditional Chi-town blues sound.
On the 8th at the Portal in Modesto 3 great local R&B/Blues bands are on the same bill: Big Earl and the Cryin' Shame, Shad Harris and the Groovinatiors and the Rob Hill Band. This one is special to me because I am helping to put it together. We are seriously going to to tear the roof off of this party, friends. Honestly this is going to be the show that marks the start of the season for me. Take a moment and mark this one down, do not miss it.
On April 21st the unforgettable Terrie Londee and the B-4 Dawn Band will be back at the Vintage Lounge Piano Bar in Turlock. They play a great danceable mix of Funk, R&B and Classic Rock. Terrie keeps it fun and you will be smiling.
Poorhouse Millionaires will be making their Sandude Brewing Modesto debut on the 28th. I am super proud of what we are doing with this project. We have a bunch of new original songs and we can't wait to share them with our Modesto friends and family.
On April 29th Jeramy Norris and the Dangerous Mood will be playing a couple sets at the Hughson Fruit and Nut Festival. It's a "fun for the whole family" event that goes all weekend with 2 stages and is free to all.
Last but not least, for the Jammers: Thursdays in Modesto you can jam with David Dow over at the Barkin' Dog or you can hear to the Garlic Brothers in Stockton and Jam with Jeramy Norris and the Dangerous Mood. It's a win-win folks. Have a great month and I hope to see you out at a show.
Photo is Jeramy Norris and the Dangerous Mood
April
1st Poorhouse Millionaires at the Sierra Beer Train, Oakdale
1st John Clifton at Torch Club, Sacramento
2nd Roy Rogers and the Delta Rhythm KIngs at Moe's Alley, Santa Cruz
6th A.C. Miles at Black Oak Casino
7th Terrie Londee and the B-4 Dawn Band at Vintage Lounge, Turlock
8th Big Earl & the Cryin Shame, Shad Harris and the Goovinatiors, Rob Hill Band at The Portal, Modesto
15th Big Earl and the Cryin' Shame at Torch Club, Sacramento
21st Terrie Londee and the B-4 Dawn Band at Vintage Lounge, Turlock
28th Poorhouse Millionaires at Sandude Brewery
29th Jeramy Norris & the Dangerous Mood @ Hughson Fruit and Nut Festival
Every Thursday you can jam at the Barkin Dog in Modesto with host David Dowd
Or you can jam with Jeramy Norris and the Dangerous Mood at the Garlic Brothers in Stockton
Comments
comments
About the Author: BigEarl