Art View: Open Artist Studio
by Jim Christiansen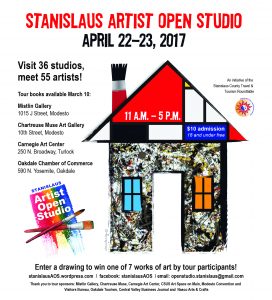 April showers us with opportunities to visit Artists in their Studios, Art Showcases, Art Walk and Art Hops, and maybe an IRS refund to buy some art for the wall.  Stanislaus Artist Open Studio Tour is April 22 and 23.  55 artists showing art in 36 studio venues, more than the few pieces you see in a gallery show, but the larger portfolios, what other media artists paying with, the tools and spaces they create in.  For the Seventh year, I've got my Garage Studio in Progress and Dining Room Gallery open to the public, and a square attached to my phone.  This time, I'm one of the studios sharing space with other artists, with Jennifer K. Machado and Richard Bradshaw.  Part of Jennifer's art lives here full time.  Richard is new to the tour, and one of the Purchase Prize Award winners, as I am, who will have that art given away in the Open Studio drawing.  Five other art creations will be given away, so remember to cut out your entry form on page 3 of the official map booklet to enter.  Maps are on sale at The Chartreuse Muse, Mistlin Galery, Modesto Convention and Visitors Bureau, Carnegie Arts Center and Oakdale Chamber of Commerce.  It pays to get your map early to plan your route Tour route includes studio stops in Turlock, Modesto, Escalon and Oakdale 11 am to 5 p.m. both days. Some stops like mine open earlier or later, and participating artists have maps.  Map booklets are $10, students 18 and under admitted free if accompanied by a map holder.  www.stanislausaos.wordpress.com
The two gallery Central California Art Showcase opens April 4 at Mistlin Gallery and Carnegie Arts Center.  The showcase features 163 entries or two thirds of art entered by regional artists into the uncategorized open media juried competition.  Awards not announced at time I'm writing the column, but will be announced April 8th and both host galleries hold Showcase Opening Gala and Artist Receptions.  To see the full show, you need to travel to both Turlock and Modesto www.carnegieartsturlock.org and www.ccaagallery.org
Downtown Modesto Third Thursday Art Walk expanded the map last month, and if you didn't get the memo, new venues are Sam and Dave's Market on I Street near 10th, Sandude Brewing and Tap Room on 11th, and Art Time and Sip Wine Studios on 16th and J.  Holdovers Tresetti's, Doubletree Hotel, Downtown Tinkertank, Carolyn Huff Photography and Gallery, Still Smoking and Preservation Coffee and tea with regulars Mistlin Gallery, Chartreuse Muse, Peer Recovery Art Project and Barkin Dog are your 13 venues.  Look for other spots like Tri Chromatic Gallery, Picasso's, and pop up music on the sidewalks and downtown venues as welcome surprises in your Third Thursday adventure www.modestoartwalk.com  Merced artist Andrea Morris will be the April and May featured artist at Carolyn Huff gallery.
Merced Art Hop is April 15 in downtown Merced on Main and Canal Streets.  Lots of venues, artists, sidewalk displays and activities.  5 to 9 pm.  Look to Lodi for the Lodi Art Association Spring Show opening May 5.
Comments
comments
Jim Christiansen, award winning watercolor artist, cartoonist and member of many art groups moved to Modesto in 1977. Born in Riverside, California, and attended University of California, Riverside. Jim often shows around Modesto, does a poster or two, and has been host of the art walk events at State Theatre and Jax on H. Jim has been writing the art notes column several years for Modesto View.