BargainView
By Monica Barber
Happy November, Modesto!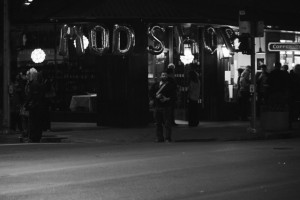 Sun sets a little earlier this evening in Downtown Modesto and Ms. M realizes that the time change is coming. Much like life, you have the choice to change how you see it, and time won't wait for you to see it all differently. You might miss something if you aren't paying attention. Anyhow, it's that time of year where gratitude is what you make it. Being thankful is something people don't often have or make space for. Do you and your wallet a favor by budgeting in a little gratitude by enjoying your community and loved ones. Here's some ways to appreciate November in Modesto!
Kick off your month with a little music at Greens on Tenth on November 6th. The Cellar welcomes the Honeymooners performing some jazz, originals and modern hits with an eclectic spin. Tickets: $15. Doors: 7pm. Show: 8pm. Reservations can be made by calling: 209-543-5306. More info: http://www.modestounplugged.com/showcases.html
Celebrate those men and women in uniform in a big way! Turn out for this year's Veteran's Day Parade on November 11th. It's an experience and example to share patriotism with the little ones and parades are always a blast in Modesto. Go out and demonstrate your appreciation for your freedom to those who ensured it. Parade begins at 9:00 am in downtown Modesto at 10th and O Street, proceeding down to Graceda Park. More info call: 209-558-7380.
November 12th-15th prepare yourself for experiencing a bit of hair-raising sassiness at the Gallo Center with Hairspray The Musical. Modesto Christian Performing Arts brings you this play based on the hit movie and Broadway musical. This classic will warm your heart and definitely make you appreciate all the things in your life. Don't miss out on this family fun show! Tickets range from $12-20. More info: www.galloarts.com
Spending quality family time is a great way to stay grateful. On November 28th the state theater welcomes a family favorite, Frozen and invites all moviegoers to Let It Go and sing along! Don't miss out on a chance to experience this Disney favorite on the big screen and sing out loud! Doors 1pm Film 2pm. Tickets: $3 for 12 and under, $5 for everyone else. More info: www.thestate.org
Get ready to give a little love from your wallet to support local craftsmen, artisans and designers by coming out to support the 3rd Annual ModShop. With perfect timing for Christmas gifts and more, this event ends the month on a high note. Join together to support your community November 28th from 5pm-9pm in Downtown Modesto along J Street. Info: http://www.modshop209.com/
Find your gratitude and remember to find the time to appreciate the important people in your life! Happy November, Modesto!
Kisses, m.
Comments
comments