Summer is Here!
by Monica Barber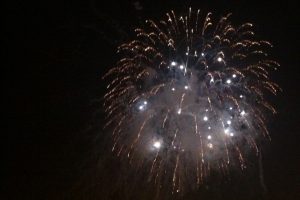 The summer season is in full tilt with the temperatures on the rise, my lovelies. Ms. M has been occupied looking for anything cool to do or new to appreciate in the Modesto area. It's always amazing how a little sunshine can put you in the mood for fun. Not to worry about the heat or cost giving you the summertime blues. Here are a few ways to beat the heat on the cheap!
Happy Fouth of July! It wouldn't be summer without the heat or the Fourth of July parade in Downtown Modesto! Continue the tradition of celebrating the Fourth with the annual event that has been happening in our city for 142 years. The traditional parade route welcomes the best floats, local organizations and high school marching bands and more. And do not miss out on the afterparty! The 4th of July All American festival kicks of at 11am following the parade. Head over to 10th Street Plaza for family-friendly games, music, food and more until 3pm. More info: http://www.modestojulyparade.com/
A great way to cool down instead of melting is to stay indoors! The all-ages indoor event, Modesto Con comes to the Central Valley July 9-10th  at the Modesto Centre Plaza.This event celebrates comics, sci-fi, cosplay and more. Celebrity Guests Doug Jones and Sam Jones lead the panels. Don't miss the chance to participate in costume contests, photo ops, and experience panels that range from comics & guest speakers to artwork.  Daily entry fee is $4. Children under 12 are free with an adult. More info: www.modestocon.com

If you're itching for some culture this summer and want to reconnect with one of the classic musicals of Broadway, look no further than the Gallo Center in Modesto. The YES Company presentation of Les Miserables kicks off a week long run on July 22nd.  Running through the 31st of the month this Tony Award winning play is a brilliant viewing for any theater aficiando or novice and a great way to celebrate our local youth in the arts. Tickets: $12-45. More information: http://www.galloarts.org/
A little music can do wonders for the soul! The Queen Bean Coffee House hosts a fundraiser on July 30th. The all-ages event includes music and comedy from performers such as local favorites Tyler & Christina, Josh Rosenblum, Mitchell Dill, Connor Martin, The Bed Heads, Timb Webb, AJ Demello, Jordan Waters, Anna Rodgers, Iesha Birdsong, Watercolor Weekend and The Dilla. Enjoy the best in local music & comedy while supporting a great cause. The event includes food, drinks and crafts in addition to more. Event runs from: 2-10 p.m. Tickets $3 advance/$5 at the door. https://www.facebook.com/events/1228029690542812/
Enjoy your summertime and keep cool!
Kisses, m.
Comments
comments