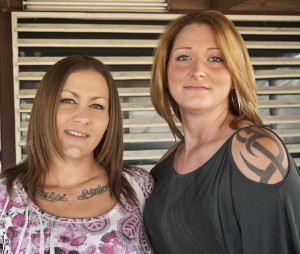 BarView
Kate and Philip
BarView
Kate and Philip's Super Spooky-Time Halloween Adventure at T's
By Kate Serpa
Photos by the lovely Philip Johnson
It was a dark and stormy October night, dense with a palpable awareness of what was yet to come.  Silhouetted by the moon, photographer Philip and I hesitated before we ventured into the isolated 9th street bar, wary of the horrific events that were yet to unfold….  No, no, no; all wrong— let's try again.  It was about 2 p.m. on a Thursday in Modesto and still around 90 degrees (despite being October) when Philip and I visited T's Cocktails to meet with the two lovely ladies behind the bar.  There was a notable lack of both palpable awareness and horrific events throughout the entire interview, and good times were had by all.  Good times were particularly had by me because I got to enjoy not one, but two delicious T's specialty cocktails whilst talking with bartenders Danica Freitas and Rayann Azevedo.
"But, Kate," you say, "Isn't T's that bar waaaay out on 9th street?!  I've never been there before!!  Tell me about it!!"
"Okay, okay, but stop shouting," I will reply.  "Repetitive exclamation points drive me crazy.  And buy me a drink in the meantime." You do, and thus I continue: This expansive bar not only features over 100 bottles,including select local varieties, eight beers on tap, including New Castle and Shock Top (not including the bottled selection), they also boast two pool tables, video games, darts, shuffle board, foosball table, a back patio, a dance floor, (inhale) and a sizable stage for live musical performances, they also have a prime happy hour and delicious $1 jello-shots during the weekend.
Needless to say, you are quite impressed.
And did I mention Danica and Rayann are lovely people?  Because they are, and as a self-conscious borderline-lush who has a difficult time getting along with other females, they were both very charming and made me feel quite at ease, even pre-initial personality drink.  Both girls seem to be genuinely passionate about T's and their clientele, however, they admitted to being tequila drinkers, which means I should never go barhopping with either of them, ever.
Danica states about T's: "We're something unexpected—we offer great service and have great customers.  We're calmer here because we're not directly downtown, but we definitely entertain our customers."  Rayann adds, "We take care of our customers; it's like a big party here every weekend."
And speaking of parties, October means Halloween, which means costume party drinking.  All of these things make me very happy.  Be sure to get in contact with T's in order to get information on their up-coming Halloween party, which will feature a costume contest.  I am currently vying for a spot as a judge as I have both the Halloween spirit and excellent taste.  Danica and Rayann are keeping mum on what they will be dressing as, which is apparently so fantastic that I am unable to tell you.  I guess you'll just have to go to T's to find out…..
HappyHaunting guys and gouls!
T's Bar Recipes
Danica's D-Suicide:  "It'll knock you in the dirt."
What you need:
-Patron, one count
-Pineapple Juice, just a dab
-Grenadine, just a dash
What you do:
-Combine the first two
-Add a splash of Grenadine on top (it'll sink to the bottom)
-Amaze friends, co-workers, and pets with the lovely two level effect the Grenadine produces
Rayann's Russian Hooker:  "We have ways of making you talk…"
What you need:
-Vanilla Vodka, 1Ž2 count
-Butterscotch Schnapps, one count
-Kahlua, one count
-Milk
What you do:
-Get your favorite glass and fill it with ice
-Combine ze first three ingredients
-Top off with milk
-Speak in Russian accent as you enjoy…. or else.
T's Cocktails
710 N. 9th Street, Modesto
522.7200
facebook.com/ts-cocktails
Comments
comments
Kate Serpa does not live in Modesto, CA, nor does she attend court-reporting school. She has not played for the piano for a number of years and she is definitely not excited about helping out at the McHenry Museum. She detests drinking, bar hopping, and late night adventures, and thinks girls who dye their hair red are disgraceful. She has absolutely zero sense of humor and is boring as hell.