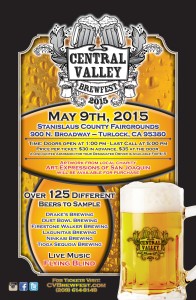 Turlock, CA – Mark your calendars for an experience in taste, art, and award winning beers. The Central Valley Brewfest is celebrating the finest local breweries in California, along with great food and music. Guests will be able to enjoy unlimited sampling, a souvenir tasting mug, admission to a charity art gallery and free parking.
"We are excited to build on the success of our first two festivals and introduce many more people to craft beer. Focusing on the finest hops and artists in the area is a natural fit the community can enjoy supporting." said Veronica Camp, founder of Central Valley Brewfest.
The Central Valley Brewfest will be held on Saturday, May 9th from 1 p.m. to 5 p.m. at Stanislaus County Fairgrounds, 900 North Broadway, Turlock, CA. Tickets in advance are $30 and $35 at the door. They can be purchased online at cvbrewfest.com or at the fairgrounds the day of the event. To encourage safe driving, there is a discounted designated driver ticket for $15. All guests must be over 21 years old to attend.
Back for 2015 is Dust Bowl Brewing Co.'s specialty collaborative brew with local radio personalities Bueller and Brent from Rock 96.7. Attendees of the Central Valley Brewfest will be the first to sample the beer along with Rock 96.7.
"The Central Valley Brewfest is a one of a kind event in our region. We really want to make this beer festival more than a drinking event, we want it to be a pure Central Valley craft brew experience. Keeping our locals on the cutting edge of a growing trend" says Camp.
Voted by the Modesto Bee as one of the top 5 Valley events to attend in 2015, this year's event will feature over 125 styles of beer to sample. Participating breweries include Track 7 Brewery, Dust Bowl Brewery, Tioga Sequoia Brewery, Lagunitas Brewery, Ninkasi Brewery, and more. In addition, The Central Valley Brewfest will feature live music from local favorite Flying Blind, along with great local food vendors, including Valley favorite Lockeford Sausage.
The Stockton charity, Art Expressions of San Joaquin will feature innovative, creative, and fresh art pieces for purchase. Proceeds will help promote and showcase talented artists who do not have a dedicated store front in the Central Valley.
For more information on Central Valley Brewfest or to purchase your tickets and see a complete list of participating breweries, visit cvbrewfest.com.
Comments
comments
Bring on the rain, and a bottle of Wonky & Wry's Honey Braggot Ale. Loves to roast marshmallows over a fire. Enjoys the mix of cigars and whiskey.