October is a family-friendly time to celebrate the change to cooler weather, leaves falling from the trees, bountiful harvests of squash & apples, when the air is filled with the smell of cinnamon. Let's go out and do something new this Halloween season!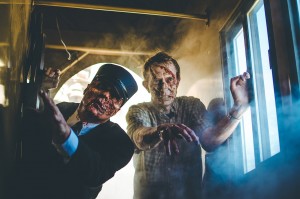 Zombie Train: Evacuation
The Zombie Train is debuting a brand new experience, "Evacuation", on the Sacramento River Train. The world is different on the Zombie Train. The infection has spread, cities are in ruin, and ammunition is scarce. Survivors have taken to the rails as their only means of escape. From October 3 to November 7, the Zombie Train will be evacuating its riders on a quest for safety. On these 40-minute trips, safety may be hard to find with zombie encounters on and off the train! Oh no! This experience is family friendly–just be sure to use discretion when deciding if your child is up for a spooky time.
Prices start at $25 for child, $35 for adult, $45 for the adult-only car. To purchase tickets go to sierradinnertrain.com.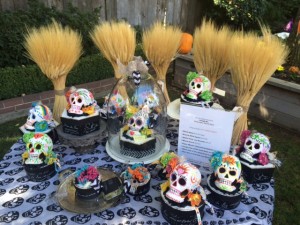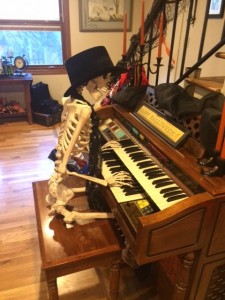 Omega Nu Halloween Home Tour
Saturday, October 10th, 11am-3pm
Tour four amazing homes, decorated in spooktacularly bootiful fashion.  These homes range from the whimsical to traditional harvest style. Guests will be treated to homemade treats at each house. Contact your favorite Omega Nu Member to purchase tickets at 209-606-9033. For more info, visit omeganumodesto.org. Tix are $35 each

Zombie Walk
Saturday, Oct 10th, 4pm-7pm
The Courthouse Park, Sonora
What is a zombie walk, you ask? It's exactly what it sounds like.  A group of undead enthusiasts get together, somewhere in a public place and act like zombies for a few hours.  The "Walking Dead Sonora" is in it's fourth year and has grown like any proper apocalypse should.  This event sees over 250 zombies and onlookers every year that meet at The Courthouse Park.  Sonora is located in the heart of gold country.  Non-zombies (onlookers) are always welcome, bring your smartphone or camera and snap away! There will also a free make-up booth and a costume contest! For more info, email sonorazombiewalk@gmail.com
5th Annual Harvest Festival
Saturday, October 17th, 10am-3pm
10th Street Plaza, Downtown Modesto
Free event filled with fun for everyone! Check out the pumpkin patch, participate in the pumpkin decorating contest, chomp on some kettle corn, listen to live local music, enjoy the craft fair, watch the pie eating contest  and chef demos, wrapped up with a Classic Car Show.
4th Annual Dia De Los Muertos
October 24th, 11am-11:30pm
Red Event Center, 921 8th St, Modesto
The festival procession which starts at 11am will be a family event, free to all who attend. The procession will leave from St,. Stanislaus Church. The dinner and dance will be $30 per person. There will be a contest for best altar, decorated table and costume.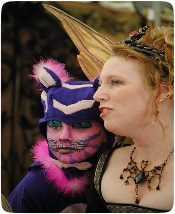 7th Annual All Hallows Faire
October 24th 12pm-11pm & 25th 11am-6pm
This year, it is a costume invasion as Episode 7 strikes back! This is a rain or shine event. The Faire is deeply rooted in the beliefs of the Celtic people, but combined with all the fun and excitement of a modern Halloween. Hundreds of visiting creatures and characters from your favorite fairy tales and Hollywood movies including Star Wars and Beetlejuice will come to life over this fun-filled family weekend! Music provided by the Wicked Tinkers, Pine Box Boys, & The Black Irish Band. Enchanted creatures include a fire-breathing dragon and a giant rocking horse. Be sure to visit the swamp with belly dancers, the St. Andrew's Noble Order of Royal Scot's Court, and the Viking camp. An all-ages costume contest that is sure to please, alongside a scavenger hunt for kids to win a pumpkin. Tickets are $16 at the gate Saturday and Sunday $15. For more information visit allhallowsfaire.com
The Summoning
Friday, October 30th 7pm
Chris Ricci presents along with Nightlife Entertainment, Beat Happy! Music, Pierce Promotions: The Summoning III: the Central Valley's biggest Halloween street festival. Featuring live music (Punk/Alternative/Metal/Hip Hop) and DJs on 7 stages, the Summoning is the must-go-to event of the fall. Dress up in your best costume for a chance to WIN $2,000 in prize money. Rain or Shine, it is the place to be.
Comments
comments
Bring on the rain, and a bottle of Wonky & Wry's Honey Braggot Ale. Loves to roast marshmallows over a fire. Enjoys the mix of cigars and whiskey.