BluesView
By Earl Mathews
Hello everyone! I hope your summer is going great and you have all had some chances to get out and see some great bands. Things are heating up and the best cure is some cool music. Starting your month off right is Jeramy Norris and the Dangerous Mood hosting the Thursday Night Blues Jam at Garlic Brothers in Stockton on the 4th. On the 5th you have 2 great options: you can go check out the Sunshines at the Cowtrack or head up the hill to Black Oak to check out yours truly Big Earl and the Cryin' Shame at Black Oak Casino. Then again back at Black Oak on the 6th is Shane Dwight bringing his brand of smokin' hot blues to the Motherload. On Sunday the 6th Joe Louis Walker will be a Moe's Alley in Santa Cruz, save a seat for me because this is one I don't want to miss.
Also on the 7th is Matt Schofield at the Auburn Placer Performing arts Center. Matt is a guitar master and a blues hall of fame member. I have had the pleasure of seeing him twice and I also cover one of his songs. Matt is considered to be on of the best blues guitar players living today.
Then on the 13th Rob Hill Band will be at Rivets American Grill in Modesto. Then turn right around and be at Deva Café Modesto for breakfast the next morning. Rob calls his style Jazzy Blue, I call is soulful and emotional. You should try to make one if not both of these shows.
August 14th will also mark the return of the Lodi Blues and Brews Festival featuring Jeramy Norris, Shad Harris and the Tule Cats. Last year this event sold out so if you are thinking about going make sure to purchase your tickets in advance.
I know its a little bit out of the blues wheelhouse but I really like Big Bad Voodoo Daddy. They put on one hell of a show and if you want to see what I'm talking about you can head to the Merced Theater on the 18th and catch them live.
Last but not least on the 27th in Ceres at River Oaks Golf Course will be the second annual Smoke on the River BBQ cookoff and festival. This year's featured acts are Patty Davis Band, California Outlaws and Big Earl and the Cryin' Shame. This is an event for the whole family and I hope to see you there.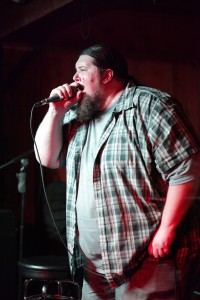 Have a great month guys, I hope to see you out at a show.
Comments
comments
About the Author: BigEarl