Hello everybody and welcome to the best month of the year aka my birthday month! I'm turning 41 and I'm having more fun than ever. It's music, I say music, that is the fountain of youth and on that note, let's talk shows.
On the 3rd is an event called the Downtown Sampler and if you head to the 10th St Plaza to hear me with the Poorhouse Millionaires starting at 5:30pm and get a taste of all Modesto has to offer. The next evening at CR2 Wednesday Friendsday welcomes Nathan Ignacio and Mattea Overstreet at 8pm.
On the 6th you have 2 great options: you can see Rob Hill Band at the Rotary Club Mixer in Modesto or you can check out Big Earl and the Cryin' Shame at Valley Brews in Stockton. Jumping ahead to the 11th Cole Hinkle will open Wednesday Friendsday with the Voodoo Killers for a great night of music.
There's a big show in Folsom on the 12th: William Bell, Bobby Rush and Charlie Musselwhite are playing the Harris Center. All 3 of these fellas are blues royalty. This is a must-see show for the serious blues nuts out there.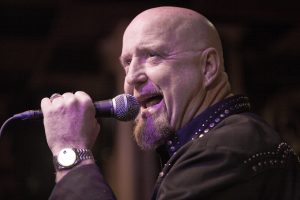 If you like your Blues served with a side of Rock and Roll I suggest you head over to the Gallo Center on Oct 13th for a night with the Fabulous Thunderbirds. The original Kim Wilson is one of the most amazing performers I have ever seen, no joke. I saw him hold a large crowd in silence for almost 10 minutes while he sang and played a capella at the State several years ago. Plus their songs "Tuff Enuff" and "Wrap It Up" are two of my all-time favorites.
Joe Medwick's Funky Floorboards will be at CR2 for Wednesday Friendsday on the 18th. Just a couple days latter on the 20th Poorhouse Millionaires are playing at 108 Sports Lounge in Riverbank.
Oct 25th Members of Buffalo Buffalo Mk White and Adam Bishop will be sharing the bill with Washboard Monkeys for Wednesday Friendsday at CR2.
Comments
comments
Always up for trying something new. Obsessed with coffee. Loves to sleep. Bring on the rain, and a bottle of Wonky & Wry's Honey Braggot Ale.