BrewView: Blades and Bottles
by Christopher Mitchell and Brandilyn Brown
Modesto couple Adam Soares and Allison Dowdy recently opened Blades and Bottles: a two-story combo saloon and salon, in the heart of downtown.
The project combines Adam's and Allison's passions of hair cutting and bartending to create something truly unique in the area. It has a throw-back 1920's feel-very sleek and swanky. It's the bees knees, bub! So set aside your heebie-jeebies, put on your glad rags (and feel free to leave your high-hats at home): with plenty of bar seating but also posh sofas and high seat tables: you will find somewhere to relax and let loose in this spot.
We happened to be in on the same day as the St. Paddy's bike crawl, so this place was hoppin'! Music was pumpin' and the drinks were slammin'. When we say this is a full bar, we mean FULL BAR: whiskey, gin, bourbon, tequila, wine, all the juices, all the garnishments-and if they don't have your favorite local brew on tap, ask about it in a bottle because they might just have it! Allison even made my preggers-self a mocktail to enjoy during Mitchell's trim-which made me feel super special!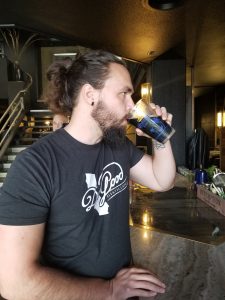 Mr. Mitchell started with a Blaker Vanilla Bean stout, then went upstairs to get a beard trim & shape by the fabulous Nicolette Leasure. He was truly pampered and loved the final product!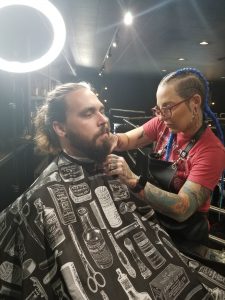 Then he finished his beer and ordered an old-fashioned.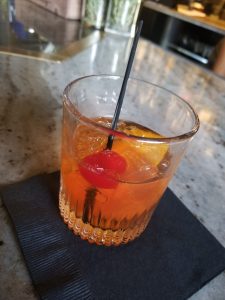 Follow them on Facebook so you'll know all about their live music nights and comedy nights-they've got quite a few events on the calendar that you won't want to miss.
Blades and Bottles
1012 15th St, Modesto
(209) 566-9761
Bar hours: 9am to 10pm, Tues & Wed. 9am to 1:30am Thursday through Saturday. Closed Monday & Sunday.
Salon hours: 9am to 8pm Tuesday through Saturday. (Walk-ins welcome, but appointments recommended. Anyone under 21 can still come in and get a haircut during salon hours!)
Comments
comments
Bring on the rain, and a bottle of Wonky & Wry's Honey Braggot Ale. Loves to roast marshmallows over a fire. Enjoys the mix of cigars and whiskey.