BrewView: Go Back in Time at Vintage Piano Lounge and Bar
by Christopher Mitchell and Brandilyn Brown

The view as you approach on Main Street. Prepare to be amazed!

Being brewers ourselves, we are quite obsessed with the 1920's culture and prohibition, and everything that went with it. The inclusion of women into the drinking scene of underground bars and speakeasys was possibly the most important event to happen to the alcohol industry, and we can thank the lack of (legal) alcohol for the popularity of the cocktail. Sure, cocktails have existed in some form for hundreds of years, but to stretch that one bottle of vodka (or gin, or whisky, why be picky!) you had in your cabinet to last longer meant it was time to find things to mix with hard alcohol.
Cocktails are now just as common as beer or wine.  Lucky for us in 2017, we can find cocktails at any bar, especially the beautiful ones created at Vintage Lounge and Piano Bar. It looks and feels like a speakeasy popped right out of 1925 and into 2017.

Vintage has been at this location on Main Street for four years. They host live piano music Wed/Thur/Fri from 6pm-8pm, and live bands Thur/Fri/Sat from 9pm-close. Some of my favorites play here, like Tim Allen and Neil & Matt. Ladies: make a special note that Wednesday is Ladies' Night, and drinks are half off for you, even off of happy hour prices!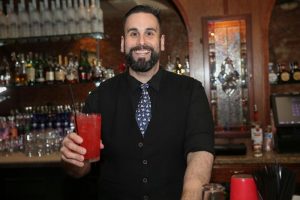 Mike with the Snozberry
Our bartender Mike Fernandes made us three gorgeous cocktails, each delicious and highly popular. His go-to drink is red berry vodka with Sprite and a splash of cranberry. I asked him to make us three "pretty drinks" and he delivered. Try these soon, and don't forget to sip responsibly!
Vintage Lounge and Piano Bar
130 W. Main St Turlock
Tues-Sat 4pm-2am
Closed Sun & Mon
Comments
comments
Bring on the rain, and a bottle of Wonky & Wry's Honey Braggot Ale. Loves to roast marshmallows over a fire. Enjoys the mix of cigars and whiskey.