BrewView: Kimoto Sake & Sushi, Japanese Pub
by Brandilyn Brown & Christopher Mitchell
Forget the expensive flights across the ocean; Modesto is full of little gems when it comes to romantic get-aways. This year, be different and head over to our own little "izakaya" (translated "stay in sake shop"), Kimoto Sake & Sushi. This Japanese pub is a place you will fall in love with, while your date falls in love with you over your great taste in adult beverages. You will never get bored trying all their different cocktails made with Japanese whiskey and sake. Or drink 'em straight, which is just as delightful!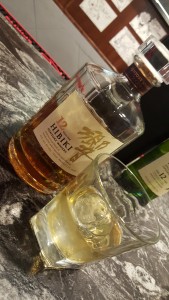 Why a Japanese pub in Modesto? Because who doesn't love drinks, sushi and hanging out with people you enjoy, eating small delicious plates of food? The culture is rich in Kimoto, down to the traditional red paper lanterns found in Japanese pubs. What you won't find is French fries or chicken wings at the bar, but what you do find is finger food to drool over, like these delicious bacon wrapped mushrooms and tempura veggies!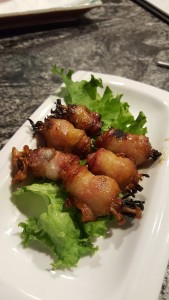 Owner Brandon Dodge met with us to take us on a taste-bud journey to Japan! Did you know the Japanese learned their whiskey making skills from Scotland? They took a perfect whiskey and perfected it even more. Not possible? Try a pour of Hibiki 18 year old aged spirit, and dare to tell us we're wrong! Kimoto carries the largest cache of Suntory whiskey in the Central Valley, rated the number one whiskey in the world for three years straight. Kimoto's bottle service makes your life easy: buy a bottle of your  favorite whiskey (which is cheaper than by the pour), and come in anytime you like to partake! Your bottle will be kept on the wall with an artsy nametag, so patrons will know you have a true palate for good whiskey!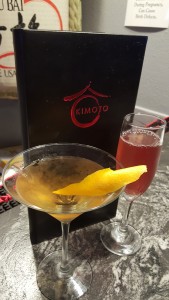 Brandon's creative drinks will turn anyone into a whiskey fan. Although he originally wanted to own & bartend a sports bar, he became enamored with the Japanese pub culture while working at Fumi Sushi. It wasn't long before his dream transformed into the reality it is today, making delicious drinks and putting smiles on patron's faces. We tried a wide array of his amazing cocktails, and our favorites are the Manhatten East (made with Do Good Distillery's Rye Bourbon Domaine De Canton, with ginger liquer, Tyku junmai sake and Peychaud's bitters) & the Harajuku Fizz (made with Tyku  junmai sake, pomegranate liquer, and ginger ale). The perfect amount of dry with a bit bubbly, this is sure to be your favorite Valentine's drink!
Craft beer is also taking the Japanese pub culture by storm. Try the sampler, it is sure to please! It comes with Skikkoku (a dark lager), Coedo Kyara (a not-too-hoppy IPA), Shiro (Heifenwizer with notes of banana), and Coede Beniaka (a smooth sweet potato beer with hints of vanilla). What do we recommend? A full glass of ice cold Beniaka!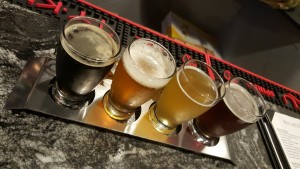 With elements of Japanese culture, large TVs for watching sports, a relaxing atmosphere and mouth-watering food like this baby Cthulhu (oh ok, it's a full grilled squid!), you are sure to have a great izakaya experience right here in your own city.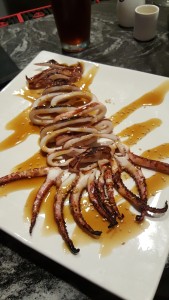 We will certainly be back for more Beniaka, and to try some items on the new menu like the sriacha honey chicken bites and fried oreos. We hope to see you there!
Before ending our little excursion into another culture, we asked Brandon if he prefers the Beatles or the Stones. "Stones!" Sorry Beatles fans, maybe next time!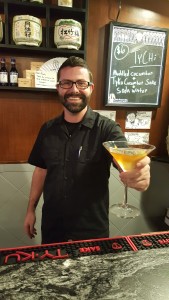 Comments
comments
Bring on the rain, and a bottle of Wonky & Wry's Honey Braggot Ale. Loves to roast marshmallows over a fire. Enjoys the mix of cigars and whiskey.