BrewView: Putting the Produce in Producing Cocktails
Christopher Mitchell & Brandilyn Brown
Not only is Modesto the home of 3 farmer's markets (see list below), there are fruit stands on almost every corner. We are home of Loretelli's, Rodin Farms, Fidel's, and more.
Have you wondered about making your own cocktails at home with fresh produce? Of course, we mean fresh tomatoes for your bloody marys, strawberries for your sangria, and peaches for your mojitos, but did you know you can literally find everything for your cocktail right here in Modesto?
Start with your favorite glass, and then grab your favorite local spirit like Do Good Distillery's rum. Then take out everything from your farmer's market haul and take note of your ingredients.
What did we get? Eggs, strawberries, limes, carrots, and hummus. Take my advice, and leave the hummus out of your cocktail. That delicious stuff belongs on crackers, not in your glass.
Looking at our ingredients, I immediately took my juicer out of the cabinet.
I squeezed a lime into my cocktail glass, filled it with rum nearly to the top, and added a bit of homemade simple syrup (aka sugar water). I then dumped it into my stainless steel shaker, and gave the ingredients a good shakin'. I put some ice cubes in my glass, and poured my concoction back into it, on the rocks. We decided to try a 2016 trend and used the lime leaves as a garnish.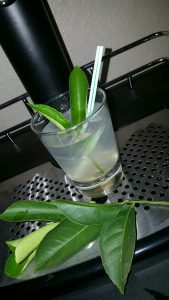 Ahhhh, a refreshing summer drink in the grand 'ol time of 75 seconds. When it comes to beating the 100+ Modesto summer heat, I recommend trying new cocktails in your kitchen! Have a cocktail recipe from your farmers market produce? Let us know!
Modesto Farmer's Markets:
Between H & I Streets on 15th St near the library, Thursdays & Saturdays 7am-1pm
10th Street Plaza, Thursdays 5pm-8pm
Kaiser Medical Center,  4601 Dale Road, Thurdays 8am-2pm
Comments
comments
Bring on the rain, and a bottle of Wonky & Wry's Honey Braggot Ale. Loves to roast marshmallows over a fire. Enjoys the mix of cigars and whiskey.