BrewView
Sandude Opens Brand New Tap Room
By Christopher Mitchell and Brandilyn Brown
Downtown Modesto is growing and getting back its glamor. One of store fronts 11th Street can boast about now is Sandude's first tap room. Yes, first. There are more coming, but Modesto is proud to be the city that John & Janette Freitas have chosen to launch in. Not only are Modestans  thirsty for good brew, the city worked with them to get them here. It only three weeks from plan to permit, and they were off building cabinets & painting. The bars have purse holders, laptop & phone charging stations, so you can stay connected to everything while you're here. The beachy, rustic taproom is decorated with nods of family history, such as the retired license plates on the bathrooms "SANDUDE" and "SANDGRL".
With 17 beers on tap (12 to be Sandude, 5 to be rotated spotlighting other breweries), there will be something for everyone. The Woody Brown Ale was our favorite. Get a flight to try several and pick your favorite.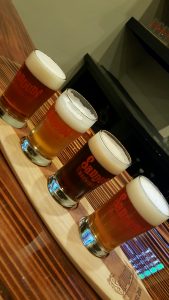 Once you have found your favorite beer, then you can really enjoy this place. Don't let the fact they are not a restaurant put you off: You can bring in whatever you want to eat. Want to order pizza? Do it. Want to bring in a picnic lunch for a romantic date? Do it. Why? "We want our guests to enjoy their favorite food, while enjoying their favorite beer." Said Janette. Now that is tagline to celebrate.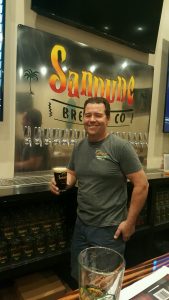 MV: How did you get your name?
John: We used to ride three wheelers and quads on Pismo Beach, and one day I'm just standing on this hill of sand, and a friend said, "Hey Sand ude!" and it stuck.
MV: How did you get started?
John: A friend gave me a mutual friend's craft beer to taste, and I really enjoyed it. So I went over and we brewed together once. That is all it took, that one time, and I wanted to brew commercially from then on. I jumped right in! I do all the brewing myself, and I've got some recipes in the works that we will feature seasonally, like a jalapeño and a mango.
MV: Go big or go home, right? Those sound delicious and we are looking forward to them!
Sandude will be hosting live music, comedy and other entertainment so keep up on their facebook page for event info as they schedule. Sip on, friends!
Sandude, 1028 11th Street Modesto, CA
Sundays-Thursdays 11am-10pm & Fridays & Saturdays 11am – 12am
Comments
comments
Bring on the rain, and a bottle of Wonky & Wry's Honey Braggot Ale. Loves to roast marshmallows over a fire. Enjoys the mix of cigars and whiskey.