BrewView
Wine Tasting Fun
by Brandilyn Brown & Christopher Mitchell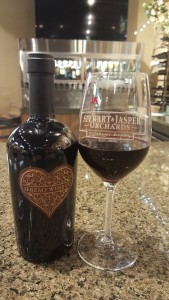 Any local wine drinker is familiar with Modesto's own Gallo, and most have also been to Lodi and Murphy's for all the wine tasting adventures found there. While I'm a fan of "Sip, Savor Lodi", I'm here to tell you that you no longer have to drive to another county to get great wine.
Hidden in the back of McHenry Village is a great little store call Stewart & Jasper. When you walk in, you become surrounded by bottles of all varietals and types of wine. It is a mini vino paradise in the heart of our city. What makes this store unique is definitely the wine bar in the back corner. They are serving up wine tastings Monday through Saturday, and the offerings change frequently. Every three weeks  the tasting menu changes, and the flight special changes (you guessed it) weekly. There are so many different wines to try, you really want to come in frequently and find a new favorite. This isn't a typical bar atmosphere, it's relaxed, with soft couches and dusk lighting, so you can easily escape an overwhelming day. They also serve beer, including some local favorites such as Dust Bowl & Stone, for the beer drinkers who accompany their buddies for a taste.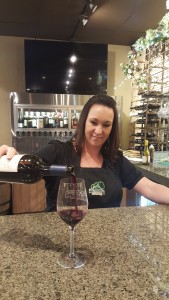 We attended the Textbook Vineyards tasting, which included a flight of four 2 ounce pours for only $10. The four wines were very tasty! The Merlot took the cake, and the Chardonnay came in a close second. During the tasting, you can walk around the store and sample their treats like cheese smothered in Apricot Pepper sauce, Sun Dried Tomato Almonds, or their addicting Butter Toffee Nuggets. The diversity of their selection will astound you. Though their wines are mostly Californian, they do have a small amount of imports to round out their medley of varietals. One of the special wines on rotation to taste was the Jeremy Wine Co. Chocolate Port, which by far was our favorite of the evening. I bought a bottle to bring home with me because it is an absolutely divine dessert wine!
After enjoying the tasting Brandilyn went back to meet with Retail Sales Manager  Brittney Mitich, and get the 411 on this perfect little wine bar.
MV: What makes Stewart & Jasper unique?
BM: Our wine bar is the perfect complement to our nuts. We offer something you can't find anywhere else. Our almond growers are local to this area and we want to support them in their communities. Modesto and Patterson were locations that just made sense. McHenry Village matches our style. Here you can get a gift basket with great tasting almonds from local farmers, AND you can pair it with a bottle of wine you hand-picked!
MV: What is your favorite wine?
BM: Opolo Vineyards, Mountain Zinfandel, from Paso Robles.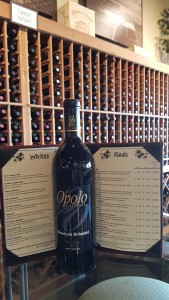 MV: Beatles or Stones?
BM: Both! I grew up with both.
Stewart & Jasper
1700 McHenry, St 58, Modesto CA  95350 #209-862-0555
www.stewartandjasper.com
Patterson location also has a wine bar.
2985 Renzo Ln, Patterson CA 95363 #209-895-9463
Both locations prefer RSVPs for large groups.
If you enjoy painting, Patterson will be hosting an Apricot Fiesta themed "Wine & Paint Night" on April 24th from 4pm-7pm. $45 tickets. Call the Patterson store for more info.
Comments
comments
Bring on the rain, and a bottle of Wonky & Wry's Honey Braggot Ale. Loves to roast marshmallows over a fire. Enjoys the mix of cigars and whiskey.