by Summer Krafft
Since November, Center Stage Conservatory has been taking steps towards making a devised theater project a reality. Traci Sprague, artistic director of Center Stage, invited a handful of writers to create a piece that used the intersection of different performance art mediums. Briana Hammerstrom, Summer Krafft, Nandi Mathews, and Melchor Sahagun III are the writing team that created the script for "Collecting the Echoes," a story of a collision of fates between six people who all have one person, and one unifying event, in common. The piece will include traditional theatrical scenes, spoken word, and dance. It will be directed by Traci Sprague and choreographed by Kianna Whitten. The production will be presented in Center Stage Conservatory's Lower Level Studio at 948 11th Street in downtown Modesto at 8:00p.m. on April 15th, 16th, 22nd, 23rd, 28th, 29th, and 30th, and 2:00p.m. on April 24th and May 1st. Tickets are $15 general admission and $10 for students.
The production features Andrew Brown, Summer Krafft, Delawna McKinney, Shane Meyers,  Flora Moon, Michael Mosley, and Renata Navarro as actors, and Morgan Loomis, Anthony Perez, Kevin Singleton, and Tabitha Stewart as dancers."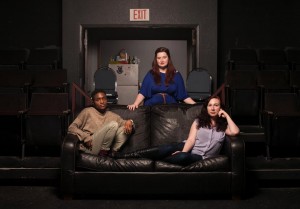 From left: Nandi Mathews, Briana Hammerstrom, and Summer Krafft. Photo is courtesy of Philip Johnson of the writers of "Collecting the Echoes".
Not pictured: Melchor Sahagun III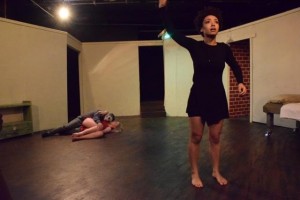 From left: Anthony Perez, Katie McCuistion, and Kianna Whitten. Photo is courtesy of Monica Barber taken at the "Sanity Dance" Fundraiser.
Comments
comments
Bring on the rain, and a bottle of Wonky & Wry's Honey Braggot Ale. Loves to roast marshmallows over a fire. Enjoys the mix of cigars and whiskey.