ChefView: Exciting Updates in Downtown Modesto!
by Brandilyn Brown
Photos by MJ Mangano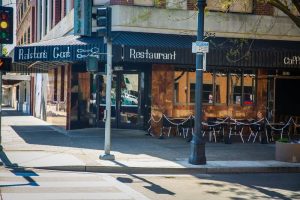 Ralston's Goat has a new Chef!
Chef Gil Alfaro started At Ralston's Goat in December, and they are very proud to have him. Chef Gil has been cooking over 20 years, and won first place at the Del Osso Farms BaconFest in 2016, and is going back again this year.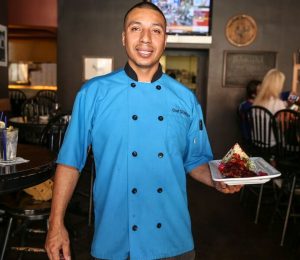 When I asked what dish he loves to cook, he responded, "Oh! Everything! I love to cook it all!" But at home his favorite dinner is eggs and beans. "It's my favorite dinner. I will never tire of eggs! I eat them all the time."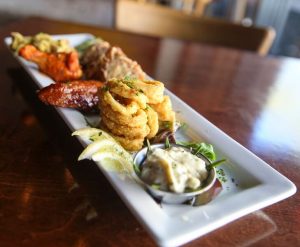 He asked what we wanted to eat, and I told him to make us some of his favorite dishes to prepare. He brought out an appetizer sampler of calamari, chicken wings, and mozzarella squares. The squares were my favorite part of the plate for sure. I adore anything with cheese!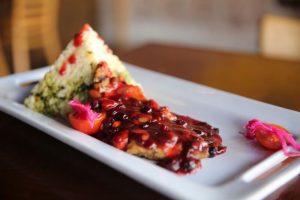 Next, he brought out a fruit and nut medley chicken, made with a base of Rodin Ranch fruit spread, alongside a pesto risotto pyramid. Every bite was a flavor explosion!
Third course was vegan zucchini boats with pulled jack fruit and polenta. A delicious vegan dish, that you would not know was vegan unless someone told you it was. (And even then, you might not believe them!)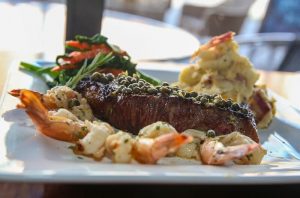 Lastly, he served his famous prime rib and prawns with mashed potatoes and veggies. The marvelously-marbled serving was seasoned and seared to absolute perfection. You barely had to chew it as it would melt in your mouth. He definitely saved the best for last! Between MJ and I, we cleared the whole plate! I know our usual ChefView writer Dana Johnson would agree with us on the steak! He makes everything from scratch, and you can taste it in every bite.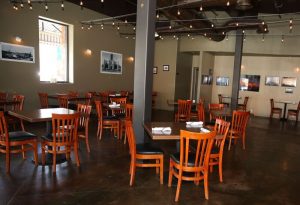 Chef Gil will be making some seasonal updates to the menu, so swing by the next time you're downtown. You will not be disappointed. (If you order an alcoholic beverage, I also highly recommend the peach lemon drop!)
Ralston's Goat
1001 10th Street, Modesto
209-549-9413

The Bayou Bar & Grill opens in April!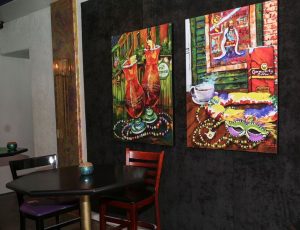 Who isn't excited for some delicious Cajun just minutes away? Chef Christopher Bonora plans traditional dishes like jambalaya, gumbo, and oysters, but will offer pizza, burgers and pasta to round out the menu. Stay tuned for more on The Bayou in next month's issue!
The Bayou Bar & Grill
918 13th St
Modesto CA 95354
Comments
comments
Bring on the rain, and a bottle of Wonky & Wry's Honey Braggot Ale. Loves to roast marshmallows over a fire. Enjoys the mix of cigars and whiskey.