Urgent Need: Supplies for Care Packs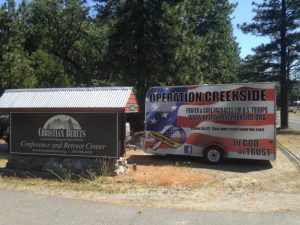 Christian Berets is hosting our first ever Veteran's Camp (Aug. 25-28)!  At this camp, veterans will connect with each other and be presented with the Hope of Christ.  As an activity during the camp, in cooperation with Operation Creekside, we hope to assemble, pray over, and mail off 100 Care Packs to our deployed troops.
We need your help in collecting supplies that our service people will appreciate. Below is a list of items that would be extremely helpful in putting these packs together.  You can drop off at our office in Modesto or the Ace Hardware in Escalon.
This "packing" event will be held on Saturday, August 27th, so we need all items by
Friday, August 26th by noon!
– Nuts / Seeds / Trail Mix (peanuts, almonds, pistachios, sunflower, etc.)
– Granola Bars / Fruit Bars / Energy-Protien Bars
– Powdered Drink Mixes (individual packets) (ie Gatorade, propel, crystal light)
– Pop Tarts – a Favorite among the troops!
– Fruit Snacks
– Beef Jerky / Slim Jims
– Gum
Call our office for more information: 209-524-7993

Comments
comments
Bring on the rain, and a bottle of Wonky & Wry's Honey Braggot Ale. Loves to roast marshmallows over a fire. Enjoys the mix of cigars and whiskey.