It's established that I love coffee. My adoration of the sacred bean is why I'm here. I love it in many of its forms. Liquid, of course, and solid, such as cakes and ice cream.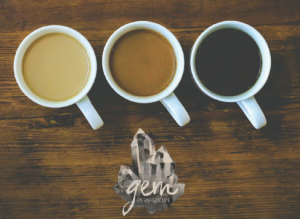 But this time of year has many of us focused on our New Year's Resolution. A study by the University of Scranton in 2014, published in the Journal of Clinical Psychology, reports that 47% of Americans who make resolutions do it for "self-improvement" reasons. My friend Vanessa Bradford, who owns Gem Perspective, is going to help me continue my coffee obsession despite eliminating processed sugar with her new e-book "The Latte Handbook". I lived through Gem Perspective's 24-day sugar shred last year, and I felt so good afterwards, that my resolution is going to be to get rid of processed sugar completely. (Honey and maple syrup come straight from nature, so I can use them in my coffee.)

This e-book contains 10 coffee recipes using whole food ingredients. (Such as Butter Coffee, Pumpkin Spice, Minty Mocha and even a Baklava, made with pistachio milk.) Yes, the coffee in the pictures look amazing, and of course the idea of "healthy coffee" is enticing, but how do these recipes TASTE? Can you actually make a delicious "whole food" latte? Vanessa and I met for a mini-tasting in her cozy abode, and I can tell you without a hint of hesitation: This is damn good joe. My favorite is the Sweet Cinnamon.
BB: "Why did you start Gem Perspective?"
VB: "I created Gem Perspective as a platform to help other women realize that health isn't just about having abs or eating kale. [It's for the people who wonder] how to not obsess about making healthy food choices, how to build physical strength alongside spiritual strength, or how to calm your cravings for junk food, this is the place for you. About ten years ago, I started a diet/fitness routine for the same reason many other women do — to lose weight. But my journey was missing two key pieces: spiritual and emotional wellness. Like many other women, I focused on eating less and fitting into smaller clothes. Everything I did was all about deprivation and minimization. I never educated myself about the most ideal ways to get healthy, much less gain a better overall perspective of how my body relates to my calling. This eventually led to an eating disorder, but that's a story for another day. It took me nearly eight years to realize that health is about so much more than skinny jeans and salad. Think of the Gem Perspective as a mindset. An attitude. A movement. It's the ability to appreciate and celebrate everyone's unique path toward wellness."
BB: "Stones or Beatles?"
VB: "Stones."
Check her out at gemperspective.com. If you want to purchase "The Latte Handbook", use the link gum.co/latte. It will automatically subscribe you to her website updates. (Which often include delicious recipes!) I've heard rumors there will be a second edition coming out in early spring, so stay tuned and follow her on Facebook for updates. Sip on, friends!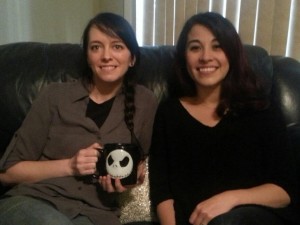 Comments
comments
Bring on the rain, and a bottle of Wonky & Wry's Honey Braggot Ale. Loves to roast marshmallows over a fire. Enjoys the mix of cigars and whiskey.