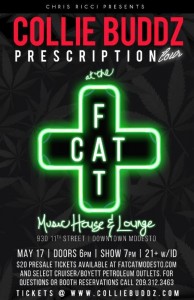 With his independent spirit guiding his journey, Buddz has traveled as far possible from his little corner of the earth. He's constantly creating new music and experimenting with it in front of live audiences almost immediately. With support from his team at Mojiza Management and touring and merchandising backing at Ineffable Music, Collie Buddz has toured the world. He's honed his craft while in support of several tours with artists such as Cypress Hill, Rebelution and Matisyahu. He's performed in front of thousands at the largest music festivals such as Lollapalooza, Boomtown, Summer Jam and the California Roots Festival. On May 17th, he calls the Fat Cat home. Let's make him feel welcome.
Buy Tix here:
http://www.flavorus.com/event/Collie-Buddz/286852
Comments
comments
Bring on the rain, and a bottle of Wonky & Wry's Honey Braggot Ale. Loves to roast marshmallows over a fire. Enjoys the mix of cigars and whiskey.