COUNTRY MUSIC HALL OF FAME SINGER & SONGWRITER DON WILLIAMS
TO PERFORM AT THE GALLO CENTER FOR THE ARTS NOVEMBER 19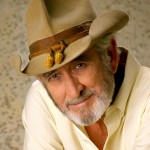 MODESTO, CA – (October 19, 2011) – Don Williams, known for his straightforward yet smooth bass-baritone voice and soft tones, will perform at the Gallo Center for the Arts on Saturday, November 19 at 8:00 PM. A country music classic whose songs have been covered by Jonny Cash, Eric Clapton, Kenny Rogers, Alan Jackson and many more, Williams was recently inducted into the Country Music Hall of Fame by the Country Music Association.
Tickets range from $39 to $99. A 15% discount is available for groups of 15 or more. For tickets and more information, visit www.galloarts.org or call (209) 338-2100.
In 1978, Don Williams was the Country Music Association's "Male Vocalist of the Year" and his "Tulsa Time" was named Single of the Year. He's had 21 #1 singles, including "You're My Best Friend," "Til the Rivers All Run Dry," "Say It Again," "It Must Be Love," "Love Me Over Again," "I Believe in You," "Love Is on a Roll," "Amanda," "That's the Thing About Love" and "Heartbeat in the Darkness." Williams' album Harmony released in 1976 was hit #1 that year and several of his albums after that went on to reach gold or platinum status.  
Comments
comments
About the Author: admin