Were you aware of National Princess Week? Us either! The DoubleTree was in the loop however, and brought us aboard to celebrate one special princess in the 209!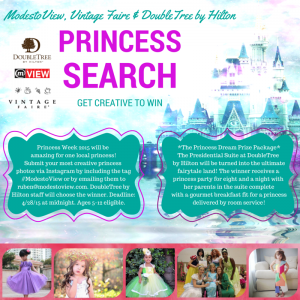 Details: Dress up as a Princess! Get creative. Your daughter, niece, cousin, younger sibling does not need to dress like a traditional princess. Princess Leia from Star Wars didn't wear frilly dresses but she is still in the Princess Club! Whatever you think a "princess" dresses like, dress up!
Post your photos on twitter #ModestoView or email them to ruben@modestoview.com
Deadline to enter is 4/28/15 at midnight!
Dinner at Maxi's for up to 8, the Presidential Suite the night of May 1st, and breakfast in bed for the princess are donated by DoubleTree by Hilton Modesto. Accessories will be donated by Vintage Faire Mall.
Winner will be chosen by DoubleTree staff at random.
Comments
comments
Bring on the rain, and a bottle of Wonky & Wry's Honey Braggot Ale. Loves to roast marshmallows over a fire. Enjoys the mix of cigars and whiskey.