So obviously the year isn't quite over, but I'm calling it anyway. Marina And The Diamonds latest LP, Froot, is my pick for LP of the year.
Froot, as in fruit but in a creative different Roxy Cool kind of way, has made more than an impression on me. It's as if she came out with this LP just for me. Every single song on Froot has a great deal of various kinds of mimics and or a belief in my everyday lifestyle, so it seems. In fact you might say it moves me in more than a danceable way with upbeat lyrics such as, "I'm not afraid of God, I'm afraid of man," "But without you, I'm afraid of falling," and "You can do better then." As a professional DJ (The Quake) for over 25 years, I've acquired a different taste of music on a personal level. In other words it's different from the same music I generally play every weekend that would include your top 40 in all genres as well as some of the old classic requests such as Sweet Home Alabama. And just for the record, I've never been to Alabama. Most of my friends would say that I walk to the beat of my own drum and that's cool. It's been that way since as long as I can remember and I'm OK with that. Just the same, it's refreshing to know that I'm not really alone here when it comes to a European sound like Marina And The Diamonds' music.
Just recently, another one of her shows was added at The Fox Theater in Oakland since the first one sold out in record time. Her latest LP "Froot" is amazing. It has 12 tracks that move me in a eclectic kind of loving way. Her new LP Froot has my name all over it as if I was one of her Diamonds. Marina is chic, lovely with a romantic voice in all levels and if you liked Kate Bush's LP, "The Dreaming," in the 80's you will find something similar to that love in a deeper sense with Froot. I'd like to invite you to try something different and far from the norm in music or what our traditional radio stations are playing. Simply try the taste of her Marina's "Froot."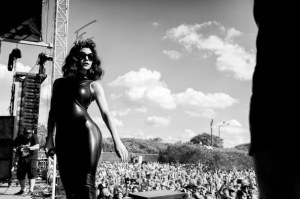 Marina And The Diamonds
Founded in 2005
Hometown: Wales / Greece
Record Label: Atlantic Records
FROOT is available now at links below
http://smarturl.it/FROOT.itunes
http://smarturl.it/FROOT.Amzn
http://smarturl.it/FROOT.store
Media
www.marinaandthediamonds.com
www.facebook.com/marinaandthediamonds
Marina And The Diamonds Videos Below
https://youtu.be/gDr7aTfBffU
https://youtu.be/WZzcY7ASQno
Marina And The Diamonds (Neon Nature) tour passes through Oakland on the 20th & 21st at The Fox Theater. Ticket link below.
September 20th  www.thefoxoakland.com
September 21st Sold Out!
Comments
comments
I answered the call back in 1983; mixing Music and Entertainment with an eccentric European style has always come easy for me. In the early 80's I was the Disc Jockey for most of the high school dances in Modesto. In the late 80's I found myself in Hollywood working as a dancer and sound engineer for various professional recording industries. In 1990 my wife of 25 years and I started (The Quake Mobile DJ ®) which was seeded from San Francisco's 1985, The Quake, radio station that only lasted a short while on the air. 26 years later The Quake Mobile DJ is bigger & better than ever in the Entertainment industry. Real-Estate, photojournalism, event promoter, saving animals, travel and fitness are a few other of my interests. I also enjoy motivational speaking to children and to those who are struggling with addiction. In my life, I have always been a very direct person and once I see a goal I won't quit till I've achieved it. But out of all of the above I feel in my heart that the best inspiration in my life is my wife and my love for the faith that I practice. Phil 4:20