NewView: Check out Exit Escape Room Adventures, Modesto!
by Brandilyn Brown & Christopher Mitchell of BrewView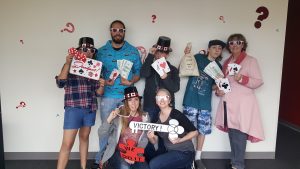 Escape rooms are all the rage right now, and despite that fact, we had not made the time to go to one. We waited WAY TOO LONG to experience the excitement of an escape room!
Last week, BrewView and the family went to the brand new Exit Escape Room Adventures, particularly to get out of the "Exit Saloon" room. The story of this room is that the saloon owner happens to host underground poker games, keeping his stash of money in a safe. Your job is to get in, find the cash, and get out of the room within 60 minutes.
I am happy to report that it IS possible to escape! There were 7 of us and using every cell in our brains managed to escape in 57 minutes and 56 seconds, only needing two clues.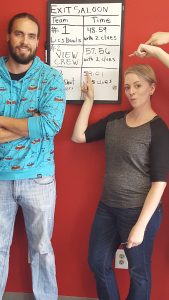 To the best of my memory, there were 11 clues we had to solve using various objects in the room, to discover more clues that we had to solve. (There could've been more than that! It's a whirlwind in there!)  I wish I could describe more to you but I'd hate to give it all away! Let me just say that your imagination is the limit: a clue could be anything, and there might even be something right in front of you that you can't even see! Expect the unexpected, and look at everything in the room, two times if necessary! I can promise you that you will have incredible fun!
Afterwards, we spoke to owners Susan Edmiston and her two Game Masters, her kids Phillip Green and Kristi Green. Both experts at escape rooms (by traveling across the country to experience many of them), it still took over a month to plan this particular story room. Coming this summer, they will introduce another room, National Treasure. We can't give it all away, but if you want to steal back the Declaration of Independence, you should follow them on facebook so you don't miss the new room announcement, and schedule your escape!
They have a special running until April 6th for $20 per person (will go up to $25 April 7th), or you can rent the whole room for $150. For more info, email info@exitescapes.com.
Good luck escaping, Modesto!
Exit Escape Room Adventures
1501 Coffee Rd Suite G
Modesto, CA 95355
https://www.facebook.com/EXITescapesmodesto
www.exitescapes.com
Comments
comments
Bring on the rain, and a bottle of Wonky & Wry's Honey Braggot Ale. Loves to roast marshmallows over a fire. Enjoys the mix of cigars and whiskey.