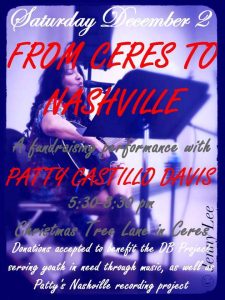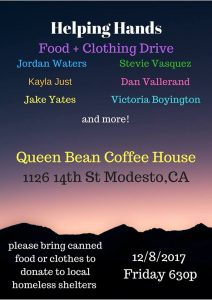 SongwriterView: FINALE
By Patty Castillo Davis
December signals the end. Celebrates the history made. Mourns the absence. It has been a year of tremendous accomplishment and loss in our community.
On the other side, we can look ahead to the new venues finding the formulas that work for them, freshman artists getting polished, veteran entertainers making the leap from local heroes to center stage and LOTS of new music alliances and recordings. We are a closely woven enclave of Artisans, we song crafters.
I'd like to congratulate and celebrate the earnest work of my Song Sisters this year. We organized, marched, wrote original music, fronted bands, filled venues as headliners, made the move to Hollywood, worked with Nashville Producers, won awards. We triumphed with our talent in a place where we are the minority. Just wait for 2018.
Our friends at DEVA Café continue to serve the community, new recipes for delicious food and superb music each Sunday, join your friends and family this holiday season- 12/3 Tim Allen, 12/10-Zoe Rose, 12/17-Me & You, closed 12/24 and   12/31- DEVA has partnered with Second Chance Consignment and Costume Corner for a coat drive. Drop new or gently used outerwear to benefit Inter-Faith Ministries' clothes closet which will serve 1000 people every month.
The Third Thursday Art Walk on December 21 brings together art and music. The ModestoView stage will feature special live entertainment in the spirit of the Rockin Holidays.
Saturday, December 2 from 5:30 to 8:30 pm the "From CERES to NASHVILLE" fundraising effort will commence during the opening night of the iconic City of Ceres Christmas Tree Lane event. Patty Castillo Davis will give a live outdoor performance at a residence on Henry Avenue along the route. Contributions received will endow the DB Project which serves youth in crisis and her recording effort in Nashville, TN.
Songwriter View Gig News:
12/1 Mattea Overstreet  Barkin Dog 7 pm
12/2 Mondo Mariscal  KAT Country Cares Christmas
12/7 Mattea Overstreet  Tresetti's 9 pm
12/8 Dale Huff  Bookies  9 pm
12/8 Jordan Waters and friends HELPING HANDS   Queen Bean  6:30 pm
12/9 Me & You-the Duo  Rivi's  7 pm
Comments
comments