FitView: Inspirational Earl
By Efren Martinez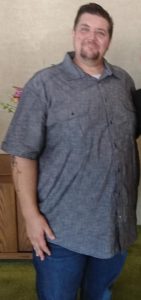 FitView: Inspirational Earl
By Efren Martinez
I recently had the pleasure to DJ  an event with Big Earl. You all might know him from his bands, "Big Earl and the Cryin' Shame"  or maybe "The Poorhouse Millionaires". I couldn't help but do a doubletake when I saw him. WOW! He has lost a lot of weight. In his own words, "the size of a football player". Once being overweight myself, I know that weight loss is no easy task and takes a great deal of discipline and dedication throughout one's life. After exchanging a few quick hugs of happiness, I asked him if he would share his weight loss journey for all of us who might be struggling with weight loss. Although according to Earl, the weight loss "Journey" is not over just yet. I told him at the rate he is going; he might want to consider changing his stage name from Big Earl to Inspirational Earl.
MV: What is the name of the diet program you are using and how does it work?
Earl: I did a "Keto Diet". The basic idea of the diet is to remove sugar and almost all carbohydrates from your diet to stop the production of insulin. Then increase your intake of healthy fats to stimulate the production of "Ketones" by your liver. Once in a state of "ketosis" it will become fat fueled, and then, by restricting calories you will burn body fat much faster than on a regular diet.
MV: How much weight have you lost and what was your heaviest weight?
Earl: At my heaviest, I was at 650lbs. I have dropped 260lbs, and I'm now at 390lbs. My goal is to get down to 300lbs, which for my height and build is the ideal weight.
MV: Are you doing any kind of exercise including walking with this program? If so, what is it?
Earl: I don't currently work out due mostly to joint problems related to my weight and past injuries.
MV: How are you feeling these days as a lighterman compared to when you were at your heaviest?
Earl: My energy level is through the roof! I feel better and can be on my feet for a lot longer. It has changed my life in so many ways that it would take 500 words to scratch the surface.
MV: What type of message can you share with others who might be struggling with weight loss?
Earl: When I started this diet I was scared that it would take me years to get to my goal. It was scary, and I questioned whether or not I had the strength of will to see it through. It has been 16 months, and I am almost to my goal. It has been hard at times, but well worth the effort. I can't recommend this diet enough. My doctors are amazed at what I have done and everywhere I go it's all people want to talk about with me. It's honestly the best thing I have ever done for myself, and unlike surgery, I didn't have to mess up my digestive track for the rest of my life. I'm not trying to judge anyone for getting it done, I know it's a hard choice, but I knew that I didn't want to do that. I did it myself, and I take pride in that. For anyone out there who wants to make that weight loss change, I say go for it. Do your research, talk to your doctor and take it one day at a time.
Comments
comments
I answered the call back in 1983; mixing Music and Entertainment with an eccentric European style has always come easy for me. In the early 80's I was the Disc Jockey for most of the high school dances in Modesto. In the late 80's I found myself in Hollywood working as a dancer and sound engineer for various professional recording industries. In 1990 my wife of 25 years and I started (The Quake Mobile DJ ®) which was seeded from San Francisco's 1985, The Quake, radio station that only lasted a short while on the air. 26 years later The Quake Mobile DJ is bigger & better than ever in the Entertainment industry. Real-Estate, photojournalism, event promoter, saving animals, travel and fitness are a few other of my interests. I also enjoy motivational speaking to children and to those who are struggling with addiction. In my life, I have always been a very direct person and once I see a goal I won't quit till I've achieved it. But out of all of the above I feel in my heart that the best inspiration in my life is my wife and my love for the faith that I practice. Phil 4:20