We hope you'll join us Saturday May 30th for a day of child safety seat inspections and education for local families in South Modesto and Stanislaus County, see details below.
Please do help us spread the word for this important community event.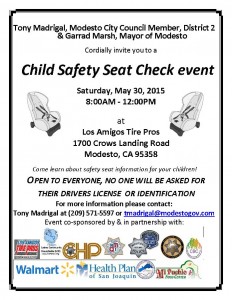 DATE & TIME:
8am-12pm Saturday, May 30, 2015
LOCATION:
Los Amigos Tire, 1700 Crows Landing Road, Modesto, CA
EVENT:
Child Safety Seat Check Event
OTHER INFORMATION:
Tony Madrigal, Modesto City Councilmember District 2 & Garrad Marsh Mayor of Modesto cordially invite all parents, and families to come get your child safety seats inspected for safety and to learn about child safety seat information.
EVENT OPEN TO EVERYONE ON A FIRST COME FIRST SERVED BASIS. NO ONE WILL BE ASKED FOR THEIR DRIVERS LICENSE OR IDENTIFICATION.
Event generously co-sponsored by and in partnership with Los Amigos Tire Pros, CA Highway Patrol, Latino Community Roundtable, Congregations Building Communities, Stanislaus County Sheriff's Office, Modesto Police Department, Health Plan of San Joaquin, Walmart, Rank Investigations & Security, and the Stanislaus Tuolumne Central Labor Council.
CONTACT:
For more information please contact: Tony Madrigal at (209) 579-4776 or tmadrigal@modestogov.com
Child Safety Seat Check Event, Coordinator
Modesto City Councilmember, District 2
Comments
comments
Bring on the rain, and a bottle of Wonky & Wry's Honey Braggot Ale. Loves to roast marshmallows over a fire. Enjoys the mix of cigars and whiskey.