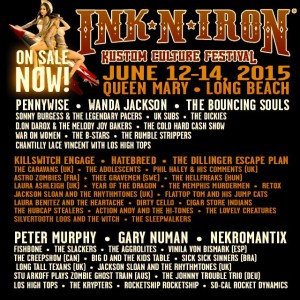 There's a buzz in the air for what's about to take place next weekend: the 13th annual Ink-N-Iron Festival on the Queen Mary in Long Beach. Taking place from June 12-14, the festival with feature 280 of the best tatoo artists from over 30 states and 25 countries. Also on hand is a classic car show and loads of live music each day including bands like Wanda Jackson, Fishbone, Killswitch, Engage, and much, much more.
This is the only festival of its kind, and taking place on the legendary Queen Mary is too cool topass up.  This is billed as a modern day 'Kustom culture festival. More info about this fest can be found at www. INK-N-IRON.com.
Comments
comments
Bring on the rain, and a bottle of Wonky & Wry's Honey Braggot Ale. Loves to roast marshmallows over a fire. Enjoys the mix of cigars and whiskey.