H.O.S.T House in association with Red Dragonfly Productions presents
H.O.S.T. House Comedy Night
Comedy Benefit for H.O.S.T. House (Helping Others Sleep Tonight)
Starring Don Friesen
with Liz Grant
Friday, March 24, 2016, 8 pm
Federated Church Fellowship Hall
45 S. El Circulo Avenue
Patterson, CA 95363
$15/advance and $20/door General Admission
Doors 30 minutes before performance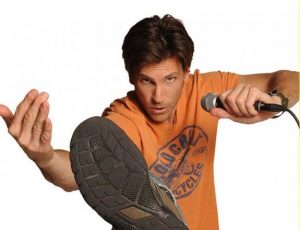 Smart comedy for thinking adults.  Recommended for ages 18 and over.
Two-Time San International Comedy Competition Winner Performs In Patterson For Local Homeless Shelter
Don Friesen, the only two-time winner of the San Francisco International Stand-Up Comedy Competition and star of the Showtime special Ask Your Mom will be bringing the laughs to the Westside on Friday, March 24th at 8 pm to benefit H.O.S.T. House, the only homeless shelter serving the Westside of Stanislaus County.
Originally from Fresno, the now LA-based comic is a favorite performer on Alaska cruise ships and has performed to as many as 30,000 people while opening for the Goo Goo Dolls.
Ask Your Mom captures the irony of parenting, marriage and everyday absurdities through characters, voices, parodies and some of the best written routines around. Friesen lights up the stage with an engaging blend of wit and physicality that connects with audiences from all walks of life.  It's that rare comedy special that is adult-smart yet family-friendly–a show that has enough edge and energy to kill in nightclubs but still manages to be clean and universal enough for all ages.
Friesen is the only two-time winner of the prestigious San Francisco International Comedy Competition whose past finalists boast luminaries such as Robin Williams, Dana Carvey, Ellen DeGeneres, Sinbad, and Dane Cook.  He has opened for the Counting Crows and is a favorite on the KLOS
Five O'Clock

Funnies
.
Don is also one of the most requested comics on XM Sirius satellite radio and has appeared on numerous television shows including Live at Gotham, Surviving the Holidays with Lewis Black, and The Best of Comics Unleashed.
The Seattle Post-Intelligencer says, "Friesen will leave a lasting comic impression, and describes him as offbeat, satirical, self-deprecating and slightly out of control."
The Times-Picayune declares Friesen "…one of the best up and coming comedians in the country," and the Reno Gazette-Journal says, "Friesen is one comic you won't want to miss."
Opener Liz Grant began doing creepy impressions in the third grade. Things finally paid off when she opened for Robins Williams and Dana Carvey. She wrote for George Carlin's
laugh.com
and won The Brian Regan Impression Contest. Her latest one-woman show, Massage Cop, will be debut in September 2017.
About H.O.S.T. House (Helping Others Sleep Tonight):
H.O.S.T. House is the only homeless shelter serving the Westside of Stanislaus county.  Formed by a group of residents from local churches and the surrounding community, the organisation has banded together to help their fellow citizens who are homeless and the working poor in the area.  Their vision is to end homelessness in their community and they provide temporary housing during the winter season, food, clothing, toiletries and currently service over 60 homeless people.
About Comedy and Red Dragonfly Productions:
Who doesn't need a good laugh nowadays?  Sure, we can always seek out our local comedy club to catch the latest up-and-coming comic amidst the two-drink minimum charges and suggestive material.  But, there is a new trend in comedy.  Featured standup comedy evenings are becoming a welcome addition to fundraising efforts by non-profit organisations.
You can buy cookie dough at your kids' schools, you can buy Christmas wrapping paper from the PTA, you can even buy all the Girl Scout cookies you want.  But, many are looking at a comedy show as a new and fresh way to raise money for a good cause.
Red Dragonfly Productions has a handle on this trend and focuses on booking comics with smart material for thinking adults who enjoy a night out and like that feeling you get when you've done a good deed in your community.
With a lineup of fresh, insightful, and funny comics known for their well-crafted material and relatable humor, these comedy benefit shows are for audiences who appreciate the art of comedy.
Previous shows have included comics Andrew Norelli, Tim Lee, David Studebaker, Don Reed, Ben Feldman, Scott Capurro, Caitlin Gill, Rocky LaPorte, Myles Weber, G King, Mike Pace, Darren Carter, Larry "Bubbles" Brown, Jason Love, Liz Grant, Maggie Newcomb, Ngaio Bealum, Robin Cee, Rocky LaPorte, Ellis Rodriguez, Tom Devenport, Matt Gubser, Karen Rontowski, James P. Connolly, Katsy Chappell, Kat Simmons, Dennis Regan, Karinda Dobbins, Keith Lowell Jensen, Natasha Muse, Dhaya Lakshminarayan, Mike Capozolla, Joseph Nguyen, Priya Prasad, Jeff Applebaum, Dave Mencarelli, Greg Hahn, Marianne Sierk, Don Friesen, Mark Pitta, Derrick Leonard, Dave Burleigh, Robin Cloud, Brad Upton, Johnny Steele, Phil Johnson, Bj Johnson, Mark Yaffee, Adam Strong, David Lew, Maureen Langan, Kellen Erskine, Joe Nguyen, Ryan Stout, Dan St. Paul, Myles Weber, Matt Gubser, Joe Klocek, Sammy Obeid, Dave Burleigh, Brendan Lynch, Will Durst, Johnny Steele, Mark Lundholm, Kortney Shane Williams, Rocky Cologne, Milt Able, Tim Bedore, Kelly McDonald, Carlos Alazraqui, Karinda Dobbins, Dr. Gonzo, Paula Poundstone, Mickey Joseph and many more.
Comments
comments
Middagh Goodwin LIVES Music. He has been booking and promoting Music, Art and Comedy for years in the Central Valley. He ran the award winning Plea for Peace Center in Stockton for 5 Years and has booked bands from A-Z. Middagh is beginning 2016 with a new position at the Gallo Center for the Arts and celebrating Beat Happy! Music's 30th Anniversary. Read the MAMAView every month and a the Needle Drop 52 Records 52 Weeks.