Habitat for Humanity Stanislaus and Lowe's team up for 10th annual National Women Build Week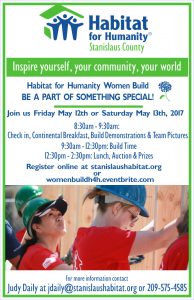 Modesto CA, (May 12th and 13th) – Habitat for Humanity Stanislaus, local businesses and community  will work alongside Lowe's volunteers and our construction crews for Habitat for Humanity's 10th annual National Women Build Week, May 6-14. Habitat's National Women Build Week invites women (and the community) to help make a difference and devote at least one day to help build decent and affordable housing in their local communities.
More than 17,000 women and men, including Lowe's Heroes volunteers, are expected to volunteer at construction sites across the country as part of Habitat's 2017 National Women Build Week.
In Stanislaus county volunteers will work together to build a home in the Habitat for Humanity community of River Vista in Modesto.
Lowe's helped launch National Women Build Week in 2008 to empower women to advocate for affordable housing and spotlight the homeownership challenges faced by many. Each year, Lowe's provides the support of their employee volunteers, Lowe's Heroes, and conducts how-to clinics at stores to teach volunteers construction skills so they can feel equipped to take part in the builds. Lowe's Heroes will be among more than 100 volunteers joining to help build decent, affordable housing in Stanislaus County as part of National Women Build Week.
"Through our partnership with Habitat and support of National Women Build Week, Lowe's empowers women to get involved in their communities, learn construction skills and make a meaningful impact," said James Frison, Lowe's director of community relations. "We're grateful to all the women in Stanislaus County who will volunteer this week to help build and repair decent and affordable housing."
Lowe's donated nearly $2 million to this year's National Women Build Week, including a $5,000 store gift card to Habitat for Humanity Stanislaus.   Since 2003, Lowe's has committed more than $63 million to Habitat's mission and helped more than 6,500 families improve their living conditions.
Habitat's first Women Build event was held in 1998. Since then, all-women construction crews have helped build more than 2,500 homes in partnership with families.
For more information on Habitat for Humanity's Women Build program or register to join us on May 12th or 13th, go to our website at www.stanislaushabitat.org and click on Women Build.
About Habitat for Humanity Stanislaus
Our mission is more than building one home at a time, for one family.  We seek out areas where multiple building sites are available, the sense of community is strong, and residents want to improve their living situation.  Habitat for Humanity was founded on the conviction that every man, woman and child should have a simple, durable place to live in dignity and safety, and that decent shelter in decent communities should be a matter of conscience and action for all.
About Habitat for Humanity International
Driven by the vision that everyone needs a decent place to live, Habitat for Humanity began in 1976 as a grassroots effort on a community farm in southern Georgia. The Christian housing organization has since grown to become a leading global nonprofit working in nearly 1,400 communities throughout the U.S. and in more than 70 countries. Families and individuals in need of a hand up partner with Habitat for Humanity to build or improve a place they can call home. Habitat homeowners help build their own homes alongside volunteers and pay an affordable mortgage. Through financial support, volunteering or adding a voice to support affordable housing, everyone can help families achieve the strength, stability and self-reliance they need to build better lives for themselves. Through shelter, we empower. To learn more, visit habitat.org.
About Lowe's in the Community
Lowe's, a FORTUNE® 50 home improvement company, has a 60-year legacy of supporting the communities it serves through programs that focus on K-12 public education and community improvement projects. In the past decade, Lowe's and the Lowe's Charitable and Educational Foundation together have contributed nearly $300 million to these efforts, and for more than two decades Lowe's Heroes volunteers have donated their time to make our communities better places to live. For the latest news, visit Newsroom.Lowes.com or follow @LowesMedia on Twitter.
Comments
comments
ModestoView features contributors from our community on a regular basis. We enjoy and welcome these honorary ViewCrew members. If you would like to message them, email to info@modestoview.com