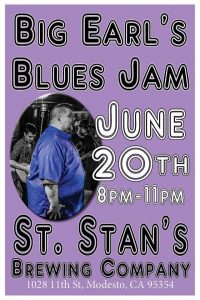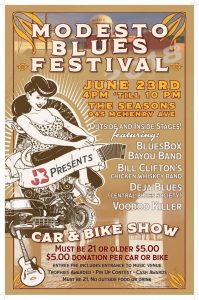 BluesView: Highlights for June
Big Earl Mattews
Hello everyone and welcome to the busiest month I have seen in a long time. Making out June's calendar this year has been nuts, over 30 events in the blues arena this month. I won't be able to tell you about everything so please consult the main calendar for what's happening and where.
Highlights for June are Blues Box Bayou Band a Knight's Ferry on the 2nd. John Mayall at the Crest on the 7th. Gary Gervase and Kickstart Blues at Minnie's in Modesto on Graffiti Night. Poorhouse Millionaires at Dad's Nostalgic Car Show and Music Fest in Sacramento on the 9th. On the 17th Father's Day Blues Fest in Volcano, great line up. Rob Hill on the Plaza on the 22nd. On the 23rd is Modesto Blues Fest, see below for more info. Jeramy Norris and the Dangerous Mood at Black Oak on the 28th.
Now I would like to Highlight a couple of big events that I think you are going to want to make it to. On the 7th the legendary John Mayall will be at the Crest Theatre in Sacramento. John is not only an incredible performer and showmen but has played a huge roll in the history of blues. He is one of the people who helped spearhead the blues revival in the 60's and has been responsible for finding and fostering some of the most talented performers in the modern era including none other than Eric Clapton himself. If you are a blues fan you owe it to yourself to get out and see this man while you still can, you won't regret it.
We absolutely have to talk about the return of the Modesto Blues Fest on June 23rd at Seasons in Modesto. JB has decided that its time for the blues to shine on in Modesto once again and we are all better for it. This years lineup features Bluesbox Bayou Band from Modesto, They play a mix of New Orleans style blues and Zydeco that will move your feet. Bill Clifton's Chicken and Whiskey Band. Bill is a former member of MoFo Party band and a Valley favorite. Deja Blues from Fresno, great guys who have been a staple of the music scene for a long time and know how to get down right. Finally we have the Voodoo Killers who mix Blues and Hard Rock into a fiery show that you can't ignore. It's going to be such a fun day.
Have a great month and I hope to see you out at a show.
June
1st Gary Gervase and Kickstart Blues Farmers Market in Hughson
1st Marc Chauvette Band at Moore's Riverboat in Islton
2nd Poorhouse Millionaires at Hilmar Feed and Supply 9-noon
2nd Blues Box Bayou Band At the River's Edge in Knights Ferry 7-10
2nd Voodoo Killer at Twisted Pig Luau
2nd Tony and the Tuff Times at Barkin' Dog Modesto
6th Rick Barnes At the River's Edge in Knights Ferry 6-8
7th John Mayall at the Crest Theater in Sacramento
8th Tony and the Tuff Times at The Rusty Nail in Ceres
8th Gary Gervase and Kickstart Blues at Minnie's in Modesto
9th Poorhouse Millionaires at Dad's Nostalgic Car Show and Music Fest in Sacramento
9th Los We're Dos At the River's Edge in Knights Ferry 6-9
10th Jeramy Norris and the Dangerous Mood at Windmill Cove Bar and Grill in Stockton
10th Stephen Bernd At the River's Edge in Knights Ferry 12:30-3:30
10th Tony and the Tuff Times at Moore's Riverboat in Islton
13th Rick Barnes At the River's Edge in Knights Ferry 6-8
17th Marc Chauvette Band, Jeramy Norris and the Dangerous Mood and Tony and the Tuff TImes at Father's Day Blues Fest St. George Hotel in Volcano
20th Big Earl's Blues Jam at St. Stan's in Modesto
20th Rick Barnes At the River's Edge in Knights Ferry 6-8
22nd Rob Hill Band at Music in The Plaza on the 10th St Plaza Modesto
22nd Poorhouse Millionaires at Torch Club in Sacramento
23th Los We're Dos At the River's Edge in Knights Ferry 6-9
23rd Modesto Blues Festival at Season's in Modesto
23rd Bourbon Street Blues Band at Barkin' Dog in Modesto
24th Patty Castillo Davis At the River's Edge in Knights Ferry 12:30-3:30
27th Rick Barnes At the River's Edge in Knights Ferry 6-8
28th Jeramy Norris and the Dangerous Mood at Black Oak Casino in Tuolumne City
30th Poorhouse Millionaires at Patio Fest at Ralston's Goat Modesto
Comments
comments
About the Author: BigEarl