Howard Training Center would like to announce that we are hosting our 5th Annual "Aim To Fill The Need" Trap Shoot Competition. Come join this fun event at the Escalon Sportsman's Club Sunday, October 11th. Everyone is welcome. Bring your firearm and ammunition and help raise funds for a great local non-profit!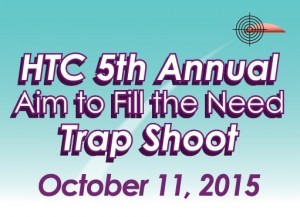 The cost is $40 for 50 targets and lunch. Lunch only tickets are available for $15. Sponsorships are available for this great community event. Last year we had over 50 shooters and raised over $4k. Raffle prizes will be on hand to win!
Be at the Escalon Sportsman's Club at 7:30 a.m. on October 11! Trophies for best shooters in Men's, Women's, and Junior divisions.
Call Geri for more details 209-593-5618
Comments
comments
Bring on the rain, and a bottle of Wonky & Wry's Honey Braggot Ale. Loves to roast marshmallows over a fire. Enjoys the mix of cigars and whiskey.