Inaugural Central Valley Vinofest Offers Wine and Art for Worthy Cause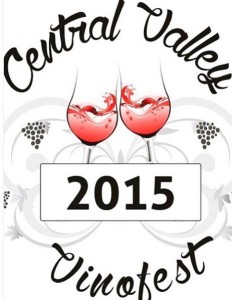 Turlock – The Central Valley is getting a new summer festival centered on a wine lineup of some of the Valley's heaviest hitters. The inaugural Central Valley Vinofest will take place late August at the picturesque Pageo Lavender Farms. This evening event will celebrate some of the finest local wineries with proceeds going to help benefit Art Expressions of San Joaquin.
"Attendees will have the opportunity to sample some of the finest premium wines from the Central Valley." said Veronica Camp, founder of Central Valley Vinofest. "The purpose of this event is to celebrate the local pioneers who dedicate their lives to creating a great product for the Valley to enjoy. This is an exciting opportunity for the consumer to have them all gathered in one of the most beautiful venues around."
This year's participating wineries include Michael-David Winery, Silkwood Wines, Irish Family Vineyards, Van Ruiten Family Vineyards, Renner Winery, Oak Farm Vineyards, Tsymbal Winery, Acquiesce Winery, and Mettler Family Vineyards. New wineries are being added daily, visit cvvinofest.com for a complete list.
In addition to the delectable wine, all attendees will receive a complimentary baguette of fresh bread from Bella Luna Bistro in Merced. Guests can snack on this Italian treat as they sample gourmet cheese from the award winning Hilmar Cheese Company. Wine, cheese, and bread a match made in taste bud heaven!
Need a ride to the CV Vinofest? The festival has partnered with Uber to give attendees a free first ride up to $20. Use the code CVVINOFEST when you sign up or text the code to 827-222 and you can request a car to your location in minutes. "Uber has been very supportive of our event." said Camp. "We encourage responsible drinking so please plan ahead."
The Central Valley Vinofest will be held on Friday, August 21st from 5:30 p.m. to 10:00 p.m. at Pageo Lavender Farms, 11573 Golf Link Rd., Turlock, CA. Tickets in advance are $35 and $40 at the door. They can be purchased online at cvvinofest.com or at lavender farms the day of the event. To encourage safe driving, there is a discounted ticket for designated drivers at $15 per person. All guests must be 21 years old to attend.
For more information on the Central Valley Vinofest or to purchase your tickets, visit cvvinofest.com
Comments
comments
Bring on the rain, and a bottle of Wonky & Wry's Honey Braggot Ale. Loves to roast marshmallows over a fire. Enjoys the mix of cigars and whiskey.