InterView Fitz and The Tantrums
by Efren Martinez
If you grooved to their LP "More Than Just a Dream", you'll absolutely love their new LP "Handclap" that was released this past summer. The LP features 11 amazingly fun tracks.  As a DJ I wasn't too surprised that the first hit single, "HandClap" was a #1 song added at Alternative Radio for 3 weeks in a row, in the Top 5 of Spotify's US viral chart and it was also featured in a FIAT commercial. Being a Fitz and The Tantrums fan, I've often wondered how they are able to all come together and create such fun uplifting songs. I mean, regardless of what they are singing about, all of their songs are danceable fun. So I hooked up with Noelle Scagg for a phone interview.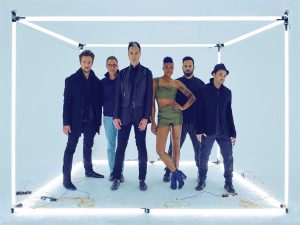 MV: There are 11 tracks on your latest LP "Handclap" verses MTJaD, were there any other tracks that were left behind for perhaps another LP?
NS: We did a lot of writing before we even got together for "HandClap" unlike the last record where we just went in and recorded 40 songs after a very short break from our tour. For this record, it actually took a lot longer and we wrote more songs for it than " MTJaD " So yes, they are all wonderful songs and even though they didn't make the cut for "HandClap," they are very much in our library with future possibilities.
MV: Speaking for the band as a whole, do you all find festivals more enjoyable verse headlining your own shows?
NS: Not sure if I could speak for everyone, but I think it depends on the fans. The energy is always different, we really never know what to expect. For us, we always try to have the most energy we can no matter if it's a festival or us headlining at any given venue. Although I will add this (and not to take away from a show that might have a room cap of around 500) while I was on stage at Lollapalooza, I was  looking out at a sea of around 10,000 people while on stage. It was pretty cool for me and realizing just how much our music has spread.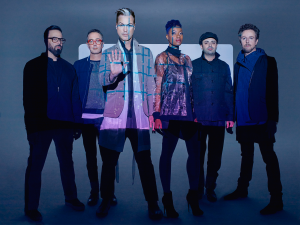 MV: What chemistry does it take to be able to write such uplifting & energetic songs?
NS: I think it has something to do with being able to mix genres and lyrical content when it comes to the writing of each song, looking back at the song "Money Grabber" which was our first huge hit song of the start of our career, the song is really about heartbreak and getting that love back from your girlfriend. But regardless of the heartbreak, we always pull from each other's positive energy to make sure our music puts you in that very happy place and I'm not really sure if we have a song that's completely "happy." I think a lot also has to do with the listener. We hope that each person takes the positive vibe from any one of our songs by the way we perform and sing it.
MV: Your song "Run it" happens to be my favorite track on "Handclap" & even though each person may have a different take on the song, what's the song mainly about?
NS: "Run It" for me it's about being in a relationship where that person can do anything they want and you're at their whim. I'm sure we've all been in a relationship where it isn't the healthiest situation but your are so in love with that person who is essentially running your life.
MV: On October 12th you will be in concert at The Fox in Oakland, knowing the band can't necessarily cover every song on stage, is it a safe guess that the band will do some songs such as "6am"?
NS: Oh ya, I'll give you that one Efren, looking forward to seeing you there.
Fitz and The Tantrums are playing Fox Theater in Oakland, CA on October 12, with Neon Trees' frontman Tyler Glenn opening
Comments
comments
I answered the call back in 1983; mixing Music and Entertainment with an eccentric European style has always come easy for me. In the early 80's I was the Disc Jockey for most of the high school dances in Modesto. In the late 80's I found myself in Hollywood working as a dancer and sound engineer for various professional recording industries. In 1990 my wife of 25 years and I started (The Quake Mobile DJ ®) which was seeded from San Francisco's 1985, The Quake, radio station that only lasted a short while on the air. 26 years later The Quake Mobile DJ is bigger & better than ever in the Entertainment industry. Real-Estate, photojournalism, event promoter, saving animals, travel and fitness are a few other of my interests. I also enjoy motivational speaking to children and to those who are struggling with addiction. In my life, I have always been a very direct person and once I see a goal I won't quit till I've achieved it. But out of all of the above I feel in my heart that the best inspiration in my life is my wife and my love for the faith that I practice. Phil 4:20