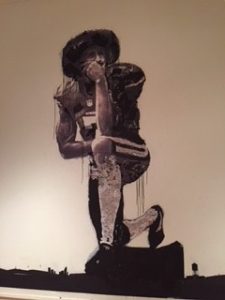 Cal State University Stanislaus in Turlock to display art by The Phantom Street Artist in exhibit "Make Amerika Jack'd Again" in the University Art Gallery
Will run October 9th through November 10th, with a special performance on November 9th at 4pm.
Press Release by The Phantom Street Artist
The Phantom Street Artist has been a long-term artist, commentator and journalist for many editors, media outlets and publications. This internationally-recognized artist and album cover artist for Rage Against The Machine founded Art Saves Lives and its independent media channel, PYR8FREETV, which heroically critiques our culture through its cause-based campaigns of social inquiry. The Street Artist in the past has authored and created photo projections at the LA Cathedral in defense of the many children who were victimized and abused by the Roman Catholic clergy as youth. The Street Phantom was one of the select artists that protested Jeffrey Deitch's 2011 MOCA survey of graffiti art with its revised title, "CA$HING IN ON THE STREETS. The Street Phantom has been a longstanding force in the LA street art scene.
Joey KREBS aka known as the Phantom Street Artist practices  diverse media and platforms, as the internationally recognized Album Cover Artist for Rage Against the Machine Battle of Los Angeles, He was also selected by Concert Promoter Louise Capone to serve as photographer Artist in residency in celebrating many of Rock and Roll greatest pioneer Acts at Pershing Square Summer Concert Series shooting.
The Phantom Street Artist has addressed many diverse  social and cultural causes including the landmark legal case of Colin Kaepernick who is a local graduate of Pitman High School in Turlock, California. Colin is the former NFL 49er Quarterback  as well as the inspirational muse and subject for his most recent art exhibition located in Kaepernick's  hometown of Turlock.  Kaepernick has just formally announced  that he is seeking legal representation to  provide him with justice against the alleged back door collusion of NFL owners who have blatantly behind closed doors blacklisted and terminated his visionary career.
In identification of the great social cause of Colin Kaepernick who is defending  his inalienable right to properly exercise his free speech as a man of diversity and a man of color through  peaceful means as a protest.
As a homage,  the Street Phantom Artist has sculpted   a surrealist high fashion wardrobe line  through ironic trope which  illustrates and literary depicts that its Owners are Today's New Age Racist Social Designers,   through  the pattern of its cultural stitching of the New 'NFL Team Klan-Fan Gear.  Oppressing the voice of its athletes is equivalent to its owners serving as this age's plantation Masters who are well  practiced at 'shafting'  and denying the voice of its most outspoken individual players.
The Street Artist believes that the Kaepernick case is a simple protection of advocacy as our basic right as workers employing  the rights of all individuals to free speech and its expression. Corporations at the highest level are openly banning together to insure  that their employees stay quiet during a covert time where  sociopolitical statements have threatened  its institution. Beyond appearances it is the NFL owners who have systemically  overstepped  its boundary line with  its colluded attempt to muzzle  the voices of its minority players along with their activist traditions as an obvious case of  overt institutional racism and white supremacy.
The Phantom Street Artist and his collective Art Saves Lives explores diverse expression  of artforms  at the intersection point   of race, sports and culture where its collective engages, enlightens and entertains through thoughts provoking content, inquiry, innovative and radical  storytelling, original reporting and provocative commentary which ultimately questions our hegemonic culture in question.
To read more about The Art Gallery and get directions, etc, click here. 
To read more about this event, click here.

Comments
comments
ModestoView features contributors from our community on a regular basis. We enjoy and welcome these honorary ViewCrew members. If you would like to message them, email to info@modestoview.com