Blues and Jazz View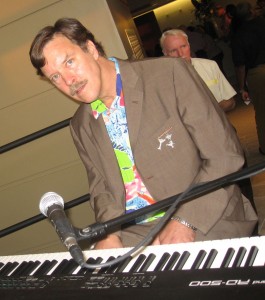 Once again it's time to hoist a glass of cheer and toast the ending of one year and beginning of a new one. Hopefully you'll make time to slow down, enjoy familyand friends and be thankful for what ya got. There is always something to be thankful for and this year one of those things has got to be local girl Mrs. Marirose of Marirose and the Gypsies, who won Best Female Vocalist and best Americana, Blues and Roots singer at the 21st annual Los Angeles Music Awards. Also topping the list of things to be thankful for, is Modesto's local music scene, virtually busting at the seams with smokin' live shows.
The Barkin' Dog Grill continues to support live music in an all-age environment and mighty John Black of JB Presents has been bringing in the best local and regional R & B acts. Their Jazz Jam on Thursdays features David Dow and is a great event for musicians looking to network or sit in. Camp 4 Wine Café has Scott Bartenhagen on Wednesdays, Chefs of New York showcases Cathy Canales on Saturdays and Galletto Ristorante's Friday and Saturday cocktail hours feature Natalia on the grand piano & sultry vocals.
The Deva Café's Thursday Night Ramble has house band Big Earl & Poorhouse Millionaires hosting an acoustic jam with 2 bands each week. The Boardroom continues their ambitious schedule of live music 4 nights a week. They've got Tim Allen on Tuesdays, Neil Buettner and Matt Harrington on Thursdays, Friday's dynamic duo of Johnny & Kelly, and a rotating Saturday line-up which includes: MCW Band, Strange Brew, The Nines, & Public Domain. (Don't forget The Boardroom's Dress Code on weekends. Call(209) 409-8665 for details so you don't offend.)
The State Theatre has a strong line up for the coming months, with The Tommy Castro Band on Dec. 9th, Tower of Power on the 29th, Harmonica Blowout on Jan. 26th and Eric Johnson on Jan 27th. Rumor has it that The State may start having dance space for some of these shows where doing the bar-stool boogie is cruel and unusual punishment. Check out www.thestate.org for the lowdown.
Off the beaten path: The St. Claire Theatre on 7th Street features Saturday comedy shows in an intimate theatre environment. The Clarion Hotel & Shooters out on Sisk Rd. have Open Mike Mondays, Wednesdays with the Creole Jazz Kings, Thursdays Vibes & Verbs with the fine line, and every third Sunday feature trad-Jazz jammers. Sips Bistro and Wine shop over on N. Carpenter also features Jazz at their Sunday evening wine tastings. Regulars on Sips music menu are: Jazzoni, Michele Richardson, and Dave Bagget.
The Prospect Theater Project is celebrating one of France's most influential singer/songwriters with the musical revue, "Jacques Brel is Alive and Well and Living in Paris,". Known for his emotional songs of life, love and death, Brel's songs are breathtaking and reviews of the show have been favorable. Performances are on Fridays, Saturdays and a Sunday matinée through December 11th. Call (209) 549-9341 for more info.
The West Side Theatre in Newman has wound down for the year, but you can visitwww.westsidetheatre.org to find out what's in the works for January. John Griswold of Global Music Series has also finished for the season, but keep a finger on the pulse of events by logging on towww.eArtsnews.com.
One final note, in an effort to keep the music flowing, I've been conspiring with some friends to put together monthly house parties, or as they were known in the jazz era, "Rent Parties". If you're interested in becoming a co-conspirator, hit me at:mbenson@fire2wire.com, or give me a holler at (209) 918-7033.
All the best, Eric Benson, peace out.
Comments
comments