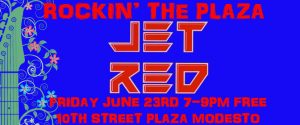 Every so often the planets align and this Friday, June 23rd that is just what is going to happen. Modesto's own legendary Rock band JET RED will be performing at Music in the Plaza. Originally it was going to be Willie Hines and friends performing songs from Willies new album Letters to Maria along with originals and covers. When Brad Lang informed Hines that he would be available to join in on bass, along with Johnny Feikert on guitar and Michael Frowein on drums, talks went to why not a full blown Jet Red performances?
Well, folks, that is what you are going to get and it is FREE. Make sure you reserve your tables at Ralston's Goat and Fuzio Universal Bistro or come out early to get a good spot in front of the stage.
Special thanks to Downtown Improvement District, Brenden Theatre, Visit Modesto, ModestoView, Fuzio, Ralston's Goat, Modesto Area Music Awards and Beat Happy! Music for bringing Music in the Plaza to downtown Modesto every Friday Night until September 22nd.
Check out the Schedule for who is coming and hope to see you all out at Music in the Plaza.
June 23rd Jet Red
June 30th Triple D
07/07 BluesBox Bayou Band 1st Friday Street Fair starts at 5pm Music at 7pm
07/14 Cloak and Swagger
07/21 Callbox
07/28 Mark & Brian
08/04 FunkyTim & the Merlots 1st Friday Street Fair starts at 5pm Music at 7pm
08/11 Highway 99 Band
08/18 Washboard Monkeys
08/25 Third Party Band
09/01 Hot Club Faux Gitane 1st Friday Street Fair starts at 5pm Music at 7pm
09/08 Lisette and the Loudmouths
09/15 Patty Castillo Davis Music
09/22 Threshold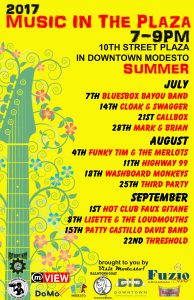 Comments
comments
Middagh Goodwin LIVES Music. He has been booking and promoting Music, Art and Comedy for years in the Central Valley. He ran the award winning Plea for Peace Center in Stockton for 5 Years and has booked bands from A-Z. Middagh is beginning 2016 with a new position at the Gallo Center for the Arts and celebrating Beat Happy! Music's 30th Anniversary. Read the MAMAView every month and a the Needle Drop 52 Records 52 Weeks.