HEALTHY AGING ASSOCIATION FUNDRAISER
Join Healthy Aging Association at Tahoe Joe's in Modesto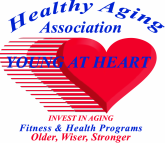 Modesto— August 14, 2015— Tickets are now available to dine with us on Wednesday, September 23 or Thursday September 24 from 11:00 am until 10:00 pm to help raise funds to support the free Young At Heart older adult exercise programs. You can dine in or take out lunch or dinner. Choices include Joe's Steak, Wood-grilled BBQ Chicken Breast, Sierra Mountain Ribs or the Boomtown Shrimp. All selections will be served with Mountain Mashers, Blue Lake Green Beans, and the choice of soup or salad. Tickets cost $16.00 each. To purchase tickets, please contact the Healthy Aging Association at (209) 523-2800.
Our Mission: Healthy Aging Association is a non-profit organization whose mission is to help older Americans live longer, healthier, more independent lives by promoting increased physical activity and sound health and nutrition practices. The older adult fitness class are free for ages 60 and better.
Comments
comments
Bring on the rain, and a bottle of Wonky & Wry's Honey Braggot Ale. Loves to roast marshmallows over a fire. Enjoys the mix of cigars and whiskey.