Josephine Johnson Comes Home to The Shire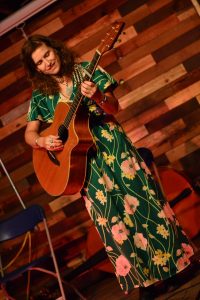 Josephine Johnson took out her ukulele from its case and began tuning by strumming.
A normal thing to do before a show, for sure. But the singer wasn't winding up backstage, she was warming up for her intimate show at The Shire on Saturday Night. She walked over, sat down before her set and started strumming, in front of everyone who everyone who came to see her.
"That's one way to tune," says a man from a corner of the room. "If I didn't know better I'd think you were playing a song."
"I always like to start this way," she said, describing her method and continuing. "I love this space, it's great for sound," She says and announces she won't be needing the microphone. The Shire is a converted garage with wood paneling and an intimate stage space. It's warm invitation of intimacy makes the acoustics idea for a small show.
By now, her instrument becomes more in sync and the strumming evolves more and more into a pleasing melody. The lights are flickered inside and out to signal the crowd. As they settle in she stops.
Starting off her set, instantly she snaps into her older track, "Let It All Out" a song that's melody and positive verses built around keeping hope alive and extinguishing anxieties inside and out. Josephine turned the intimate crowd of strangers in the quiet room into a connected whole with this ballad of hope, confidence and self-acceptance.
That kind of sound has been Josephine's trademark since she surfaced as a performer coloring the diverse music scene in Modesto. She continued with "When She's Nothing," a tribute to Emily Dickinson which she took a moment to explain is based on an anecdote about Emily lowering gingerbread to her nieces and nephews from a window. It's a light piece that fits in beautifully with her set and instantly a crowd favorite.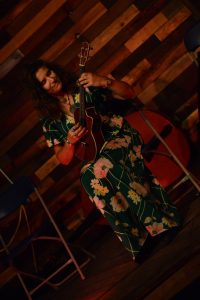 In the last few years, she's turned ears at many local favorites The Prospect Theater, Café Devas and The Queen Bean during musical tours that span from Los Angeles up to Humboldt County, always making time to stop in the Modesto area to perform. To her credit Josephine remains consistently performing and making music between substitute teaching and helping others. The world is lucky to have this rising humanitarian musician that not only succeeds as a multi-talented artist but also loves to spend time encouraging and supporting students.
Josephine's biggest splash in Modesto came at the Modesto Unplugged Music Festival, where she lit it up. Her performance instantly became a fan favorite locally. Johnson has one the biggest followings locally as any of the artists who have performed at The Shire.
The Shire show proved that her talent is rare and immense, not to mention she's charming. Even if she's still sorting out her new material for recording in San Francisco and headlining shows up and down the state, she brings her charisma and empathy to the stage in ways that will definitely take her career almost anywhere.
Josephine has a sweet and wide-ranging voice that settles right into high-energy songs or ballads. It's rare to find a singer-songwriter who can also flip into a singer-soulstress on the spot to cover of Dolly Parton's "These Ol Bones" with her own improvised sound. Her original material like "Andrew's Song" and "Monkey" are outstanding with their background and depth. But there's always something to set her sound apart from being another voice in the room.
Part of that is her presence. She can come onstage in a great vintage dress to hit the notes, but she's just as comfortable maintaining a conversational stage presence and engaging with the audience.  She also has some sharper edges in her music catalog. Sharing the personal nature of "Andrew's Song" could present a difficulty for a performer, but Josephine did it with grace, passion, respect and a perfect mix of empathy and virtuosity.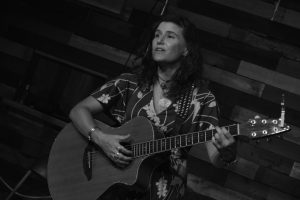 Johnson is a singer that knows how a good live performance works. She has a way about her that balances her set perfectly with a mixture of both ukulele and guitar songs. When she closed her set she was hardly the inspirational cliché. There was only gratitude paired with love as she thanked everyone for coming and encouraged them to stick around for the next act, Willy Tea Taylor. She may seem to live the nomadic life of a musician but one thing was clear during the show, she is at home performing in Modesto.
Comments
comments