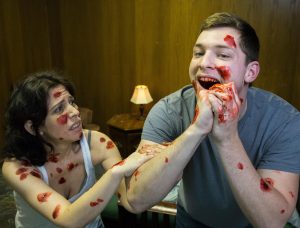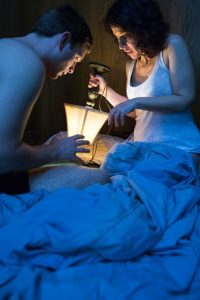 Center Stage Conservatory presents a wonderfully lurid thriller 'BUG' written by the Tracy Letts.
Production Dates: March 2-18
BUG By Tracy Letts
Directed by:  Jennifer Golden
A lonely cocktail waitress, Agnes, lives in a seedy motel room, hiding from her violent ex-husband Jerry. One night, her lesbian biker friend R.C. introduces her to Peter, a Gulf War veteran with a mysterious past. Agnes gets involved with Peter, who grows increasingly paranoid about the war in Iraq, UFOs, the Oklahoma City Bombing, cult suicides and supposed secret government experiments on soldiers eventually drawing Agnes into his delusions. This deep and intense thriller deals with issues of love, paranoia, conspiracy theories and Agnes' slow descent into insanity under Peter's influence.
Featuring the Modesto favorites Noah Thompson as Peter and Traci Sky Sprague as Agnes. Rounding out the cast is Erin Isaacs as RC, David Rodrigues as Jerry and Gary Thomas as Dr. Sweet.
"Buckle up and brace yourself for the theater season's wildest ride." – The New York Times
This riveting thriller is for mature audience only due to the drug use, adult situations, and nudity.
PERFORMANCES
Opening Night March 2, 2018, 8 p.m.
EVENINGS
Fri – Sat, March 2-3, 8 p.m.
Fri – Sat, March 9-10, 8 p.m.
Thu – Sat, March 15*-17, 8pm* "Pay what you will" night
MATINEES
Sun March 11, 2:00 p.m.
Sun March 18, 2:00 p.m.
WHERE
Center State Conservatory | Inside the City Center on the Lower Level
948 Eleventh Street (Enter on J Street)
Modesto, CA
TICKETS
$10- $15
Tickets available at: centerstagemodesto.com
Comments
comments
Middagh Goodwin LIVES Music. He has been booking and promoting Music, Art and Comedy for years in the Central Valley. He ran the award winning Plea for Peace Center in Stockton for 5 Years and has booked bands from A-Z. Middagh is beginning 2016 with a new position at the Gallo Center for the Arts and celebrating Beat Happy! Music's 30th Anniversary. Read the MAMAView every month and a the Needle Drop 52 Records 52 Weeks.