MACY'S DOUBLES DONATION ON NATIONAL BELIEVE DAY TO BENEFIT MAKE-A-WISH®
Local Wish Child will Lead High School Marching Band as They Deliver more than 5,000 Letters!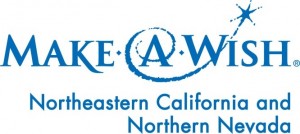 Each letter to Santa collected in-store or submitted online is worth $2 on Friday, Dec. 8
This year, Macy's Believe campaign invites "Believers" of all ages to bring their letters to Santa to their local Macy's store. For every letter received now through Dec. 24, Macy's will donate $1, up to $1 million, to Make-A-Wish to help grant wishes to children with critical illnesses. Wish Kid Bryant, AKA #SacNinja, who had his wish to be a ninja granted in October will be leading the Gregori High School marching band at Macy's in Modesto at 10:15 a.m. Gregori High School continues to deliver the most letters in the Make-A-Wish® Northeastern California and Northern Nevada regional. This year they plan to deliver more than 5,000 letters on Friday, December 8 in honor of National Believe Day.
For National Believe Day only, Macy's offers a double donation – for every letter received in-store on Friday, Dec. 8, Macy's will donate an additional $1 to Make-A-Wish, up to an extra $1 million, above the existing $1 million campaign goal.
Friday, December 8
Band will begin at 10:15 a.m.
Macy's Modesto – Women's store, back entrance
500 Vintage Faire,
Modesto, CA 95356
Since the launch of Believe in 2008, Macy's has donated more than $15 million to Make-A-Wish through this annual campaign, and helped to grant thousands of wishes. The impact of wish fulfillments is undeniable and widespread – not only do they increase hope and happiness for wish kids, but their families, volunteers, supporters, medical professionals and entire communities are transformed by the experience. For more information about Macy's Believe campaign, visit macys.com/believe. For media materials, including photos and videos: http://pimsmultimedia.com/macys-holiday2017/believe.php
 When Bryant, now 5, was born, his heart rate began to spike and doctors delivered him through an emergency C-section.  As Bryant was undergoing his newborn checkups, doctors noticed that he had a slight heart murmur, and decided to conduct an echocardiogram.  After these tests were completed, Bryant was officially diagnosed with CHD tetralogy of Fallot.  He underwent his first heart surgery at just two months-old, and is due for another surgery this year because his latest evaluation revealed that one of Bryant's heart valves is not working correctly.
When Bryant had the chance to choose a wish to be granted, he knew that there was one wish he wanted more than anything in the world: to be a ninja. During his wish, Bryant practiced his ninja moves with P2O Hot Pilates and Fitness, his Adopt-A-Wish® Sponsor, in preparation to defeat the bad guys and was given an award. Bryant soon received breaking news that the Sacramento Sheriff had been kidnapped and Bryant went on a mission to save him. He made stops at the Golden 1 Center, Bank of the West, and Cesar Chavez Park. Once reaching his final destination, Bryant saved the sheriff and ultimately, saved Sacramento from crime. Afterwards, Bryant was presented a commemorative coin, a backpack of goodies and a key to the city from Councilman Allan Warren. "He won't stop talking and loves every minute of it," his father said. Bryant's wish has become an everlasting memory and a day he will treasure forever.
About Make-A-Wish® Northeastern California and Northern Nevada
Make-A-Wish® creates life changing wishes for children with critical illnesses and are on a quest to bring every eligible local child's wish to life. Research has shown that a wish is an integral part of a child's treatment journey. Make-A-Wish® Northeastern California and Northern Nevada was established in 1983 as one of the early local chapters of Make-A-Wish® America.  Since then, the chapter has granted more than 6,300 wishes to children within its 37-county service area. For more information about Make-A-Wish Northeastern California and Northern Nevada, call 916.437.0206 or visit necannv.wish.org.
CONTACT:
Jessica Lehner, Marketing and Communications Manager
916.765.5707, jlehner@necannv.wish.org
Comments
comments
Bring on the rain, and a bottle of Wonky & Wry's Honey Braggot Ale. Loves to roast marshmallows over a fire. Enjoys the mix of cigars and whiskey.