MetalView: 2017 Spring Meltdown
by  Eve Oberlander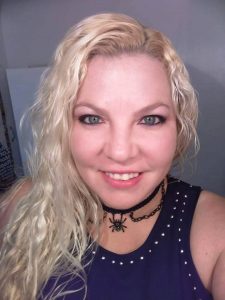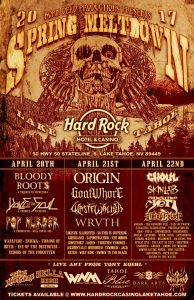 Modesto's Sworn To The Black and Merced's Cursed are on the bill for this year's 2017 Spring Meltdown metal festival with headliners ORIGIN and Ghoul. There are plenty of 209 metal bands attending too, including Stockton's Accidently Murdered and Symbolik and Sonora's Echoes of the Forgotten. Other headliners include: Goatwhore, Skinlab, WRVTH, AlterBeast, All Hail the Yeti and Stanislaus County's Arkaik. This three-day metal fest is brought to you by Born Dead Productions and held in South Lake Tahoe, Nevada at the Hard Rock Hotel and Casino April 20th thru the 22nd.  Josh Lease owner and founder of Born Dead Productions says, "The festival started eleven years ago and today it includes three days of friends and 53 bands." This festival celebrates friends, METAL and the coming of summer! It'll be a great time to check out some bad ass metal music and expand your mind to new sounds.
17TEN has a new bassist and it's the one and only Jimbo WarrGuitarist. He's super talented, been featured on Good Day Sacramento and has Modesto music ties and roots since 1993. He's in Modesto's Callbox, Freedom to Forage and The Venting Machine out of the bay area.  Jimbo has opened up for Metallica and has sung with Iron Maiden on stage.  He's performed with David Draiman from Disturbed and opened for world famous bass player Michael Manring and ended up on a DVD with him. Stay tuned and attend a 17TEN show!
Metal Noise:
* Merced's Cursed just got signed to record label Seventh Sun Records.  Cursed brings back that old school death metal sound live on stage. Congratulations guys!
*Metzger (German for Butcher) is a new heavy metal band out of Modesto. Metzger will take you on a musical journey that will be utterly fascinating but not for the squeamish or faint of heart. They consist of Butcher on vocals, Scab on lead guitar, Mogar on Bass and Porno on drums. They are describing their sound as alternative, groove, trench, thrash and death. "You will be the meat on my hook." Look for them at future shows.
*Longtime Modesto Metal bartender Sylvia is no longer at The Spinnaker Lounge. We will miss her. She took real good care of us metal heads and liked us all.  We will hopefully see her doing her thing at this year's X-Fest and maybe another local watering hole.
Comments
comments