Attract some luck this month. It's March, the month of my Birthday, Women's History and St. Patrick's Day. St. Patrick's Day is a day for anyone, whether you are Irish or not, to let loose and have a bit of fun. Here are five lucky things to do or see in the month of March:
1. Say an Irish blessing. Before you hit up your local metal show, take a moment to say an Irish blessing, that'll ensure your 2017 St. Patrick's Day is filled with good times, cheers and beers. My favorite goes: "May you be in Heaven a half hour before the Devil knows you're dead."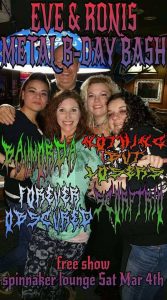 2. Attend my Birthday Party. Pamsterdam Promotions is throwing my friend Roni and I a Metal Birthday Bash on Saturday March 4th at the Spinnaker Lounge. Free show with performance's by Modesto's most hated Nothing But Losers, Scorptrio, Bavmorda and Forever Obscured. My boyfriend Keith Peters who is a vocalist will be singing several songs with Scorptrio. Yay! I'm looking forward to watching Forever Obscured perform because no one has seen them play in a year. And they are back. You don't want to miss FO's set, it's going to be sick and well worth the wait. Hailz FO!
3. Make a Irish dish. Even if you don't know anything about Irish culture, you've probably heard that corned beef and cabbage is a traditional Irish dish eaten for the holiday. It smells delicious and tastes fantastic. Firkin & Fox downtown has it!
4. Go to Lucky Fest, Friday March 17th. Lucky Fest is the valley's largest St. Patrick's Day party, held here in Downtown Modesto. With twenty five pubs built from the ground up, and live music including metal. We are going to have two metal/rock stages at Lucky Fest. Chris Ricci presents The Docks Metal Stage and Dick Quesadilla's Chicken Coop! Buy a ticket from any of the bands listed found on https://www.facebook.com/events/351283431906835/?ti=cl and https://www.facebook.com/events/392646927763388/?ti=cl
5. Be kind and go support local metal. A way to bring positive energy is by spreading it. Go hang out with your local metal heads, radiate positivity and you will attract it. Start a mosh pit and watch 17Ten and Stigmurder play in Santa Cruz March 24th at the Blue Lagoon.  Modesto's Hatriot is playing Starlite Lounge in Sac on the 24th. Celebrate Freedom's birthday with metal bands on the25th at Spinns.
 Modesto Metal Noise:
Bavmorda's Mat Zahn is now in Modesto's X-Method. X-Method just released their album titled "Sex, Alcohol Rebel Music". Mat Zahn is formerly Modesto's Zombie Death Stench and currently playing bass for Bavmorda and rhythm for X-Method. A little birdie tells me ZDS is not over.
Anthony Duran lead front man for Modesto's Hang the Kode says they are pressing their album this month and look for shows and their album drop in April.
I'm hearing word that a few bands are forming and we are looking at new Modesto Metal bands coming soon.
17TEN has exciting news that I will get to announce next article. Stay tuned.
Fact, Nothing But Losers opening for Powerman 5000 and ORGY last month at the Ace of Spades was amazing. We had forty heads deep from Modesto rocking that place; starting mosh pits and the show brought back that 90's feel. NBL put on a great set and we partied all night long!
Comments
comments