At one time Conventions and Fairs happened in just about every town or county in the United States. Over time, they became more regional and many have just stopped happening. The trend for Pop Culture Conventions is going the other way. In recent years several "Comic Cons" have popped up all over Northern California and now in the #homeofstarwars we are getting our own. Modesto Con is taking place July 9th and 10th at the Modesto Centre Plaza. You can meet celebrities like Sam J. Jones (Flash Gordon, The Spirit, Ted/Ted2), Doug Jones (Hellboy, Fantastic Four-Silver Surfer, Pan's Labyrinth), the cast of Supergirl/Unburdened; artist Chris Marrinan (Wonder Woman, Spider Man, Dr Strange), Ethan Beavers (Star Wars/Indiana Jones), Allen Passalaqua (Batman, JLA, Battlepug), Dez Demise & Dennis Knight (Pronto Comics), local and regional cosplayers with over 100 vendors and artists. There will be a game room and panels happening all day and fan clubs including the 501st, Mandalorian Mercs, Rebel Legion, 1701st Fleet, Whovian Fan Club and more. Sunday is Family Day, with specific panels and guest for kids including McGruff the Crime Dog and members of Modesto Police and Fire Department.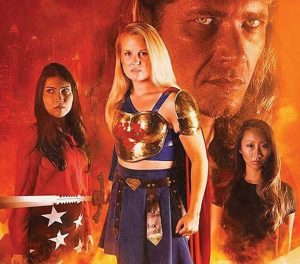 Supergirl Unburdened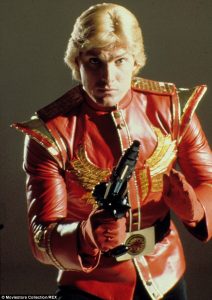 Sam Jones
MV-Hello Sam, I have to say we have been getting great buzz about you coming to Modesto for the Convention. Thanks for coming out.
SJ-My Pleasure.
MV: You are best known for your role in the 1980 version of Flash Gordon. A new generation has been reintroduced to it with your appearances in Ted and Ted II. How is it to have such an iconic role under your belt?
SJ-Wonderful, especially with the new age demographic that came on board because of Ted and Ted 2. Now with the fans I'm meeting at my personal appearances, it's Grandpa, his son and grandson, same with Grandma, daughter and granddaughter. It's exciting for me because I have two grandchildren with a third due any day now.
MV-Congratulations on the addition to the family.
You also had the lead role in "The Spirit". Which is another classic comic strip character. Were you a fan of the genre or did the roles just find you?
SJ-The role found me and I loved the character. We shot it as a TV pilot for a series, but it was aired as a TV movie.
MV-You have an interesting business outside of acting, Inner Cordon Inc. Can you tell us a little about that and how that came about?
SJ-I was a Marine before I was an actor, so at the age of 50 I started working as a Security Professional, running cross border security operation in Mexico. It came about because the movie industry is unpredictable and I always encourage young upcoming artists and actors to have a vocation while pursuing their dreams and visions of grandeur having a second vocation will eliminate the hardship of "Delusions of Grandeur" and keep one living practical while pursuing their legitimate dreams of adding value to themselves and their community in achieving greatness.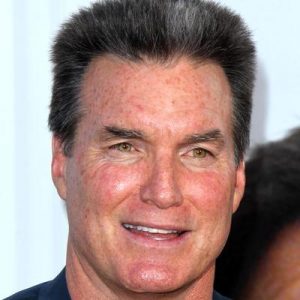 MV-Are there any new projects we can expect to see you in? There has been rumors of a Flash Gordon reboot? Will we see you in that?
SJ-Fox acquired the screenplay rights to Flash Gordon and it has been in development for two years and I'm looking forward to bringing value to this project [when I get the call]. Meanwhile I have a new film out this year, "Enter the Fists" (The Golden Fleece), a UK film crew has been shadowing me for over a year filming a documentary "Life After Flash", and life is really very good!
MV-Thank you Sam for your service for our country and for coming to Modesto. I know a lot of people are excited to meet you, myself included.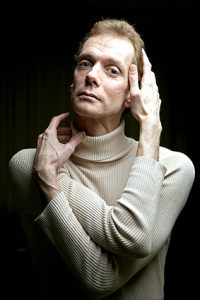 Doug Jones Q&A
MV-Doug, you are best known for your character roles. People don't often get to see your face. What have been your favorite characters to become?
DJ-That's like picking a favorite child.  Very difficult, as I love them all, but the usual suspects that are among the characters I've most connected with are Billy Butcherson from HOCUS POCUS, The Silver Surfer, The Faun from PAN'S LABYRINTH, and my dear Abe Sapien from the HELLBOY movies.  I also loved playing the kind alien Cochise on FALLING SKIES for 3 seasons.
MV-Were you a fan of scary movies growing up? If so, did that influence you the direction of your acting?
DJ-Believe it or not, I was a bigger fan of comedies and musicals as a child.  But the scary movie moments that left impressions on me would be Boris Karloff staring strait into camera with his haunting eyes in THE MUMMY, Lon Chaney being unmasked for the first time in PHANTOM OF THE OPERA, and the Gil Man creature swimming under the unsuspecting Julie Adams in CREATURE FROM THE BLACK LAGOON.
MV-You have a local Modesto connection, back in 2004 you played yourself in Sockbaby which was produced by the local team of Westhavenbrook Productions. Some of that team will be at Modesto-Con. How was it working with them? Any interesting memories from the shoot?
DJ-I love all the guys that make up Westhavenbrook.  We had such a silly time, just laughing through every day of that shoot on SOCKBABY.  Because of that sweet rapport, I told them I'd do anything they ever want me in.  So they cashed in on that by putting me in their next web-series, THE DANGER ELEMENT as the scenery-chewing villain, Doctor Elymas, all of the above are watchable on YouTube.
Comments
comments
Middagh Goodwin LIVES Music. He has been booking and promoting Music, Art and Comedy for years in the Central Valley. He ran the award winning Plea for Peace Center in Stockton for 5 Years and has booked bands from A-Z. Middagh is beginning 2016 with a new position at the Gallo Center for the Arts and celebrating Beat Happy! Music's 30th Anniversary. Read the MAMAView every month and a the Needle Drop 52 Records 52 Weeks.